Police: Lady Gaga's Dognappers Took Off With Singer's Dogs, Then Family Tried To Cash-In On Reward
The five suspects pleaded not guilty to all charges when they were arraigned in court on Thursday.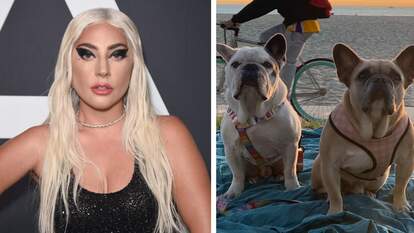 The five people charged in connection with the kidnapping of Lady Gaga's French bulldogs, which left the dogwalker with serious gunshot injuries, have pleaded not guilty.
James Jackson, 18, Jaylin White, 19, and Lafayette Whaley, 27 were arraigned in Los Angeles Superior Court Thursday on charges of attempted murder and second-degree robbery.
According to the Los Angeles County District Attorney's Office, the three suspects approached Gaga's dog walker, Ryan Fischer, on February 24 in Hollywood as he was walking the pop star's three French bulldogs.
Prosecutors say Jackson shot Fischer before the three suspects took two of the dogs and fled. Fischer was taken to the hospital with serious injuries.
According to police, the three suspects are documented gang members who didn't know the dogs belonged to Gaga, whose real name is Stefani Germanotta, but rather eyed the dogs because of the breed's typically high price tag.
Jackson faces an additional charge of assault with a semiautomatic firearm. Prosecutors have also charged White with assault by means of force.
"This was a brazen street crime that left a man seriously wounded," LA County DA George Gascón said in a statement. "We have alleged very serious charges in this case and have faith that justice will be appropriately served as this case unfolds in court."
The two other suspects are related to one of the alleged dognappers and were involved after the shooting, according to prosecutors.
Jaylin White's father, Harold White, 40, and his acquaintance, Jennifer McBride, 50, were charged with accessory after the fact. Police say McBride reported that she found the dogs and responded to an email that offered a reward for the pets.
At the time of the attack, Gaga was filming an upcoming movie in Italy and shared an Instagram post offering a $500,000 reward to anyone who returned the dogs, named Koji and Gustav.
McBride ultimately brought the dogs to LAPD Olympic Station.
Police say the elder White was also charged with possession of a firearm and McBride was charged with receiving stolen property after she returned the dogs to police.
The five suspects are due back in court on May 11 for a preliminary hearing, while police say the investigation is still ongoing.
Fischer, the man who was shot while walking the pups, is recovering.
He recounted the harrowing attack on Instagram last month with photos of him in the hospital. He wrote that Gaga's third dog, Asia, laid next to him as "blood poured" from his gunshot wound.
"A lot of healing still needs to happen, but I look forward to the future and the moment when I get bombarded with kisses and licks (and maybe even an excitement pee?) from Asia, Koji, and Gustav," Fischer wrote.
At the time of the incident, Gaga took to Instagram to message her close friend: "I continue to love you Ryan Fischer, you risked your life to fight for our family. You're forever a hero."