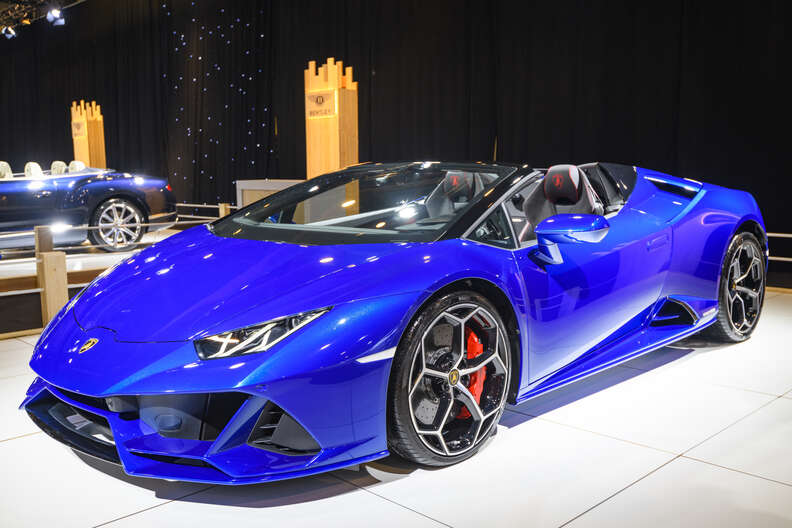 Getty Images / A Lamborghini Huracan EVO Spyder convertible sports car on display at Brussels Expo on January 8, 2020 in Brussels, Belgium
A Florida man has been arrested and charged after receiving millions of dollars in COVID-19 relief funds and allegedly using some of the money to buy a Lamborghini and other luxury items.
According to a statement by the Department of Justice, 29-year-old David T. Hines was arrested and charged with fraudulently obtaining $3.9 million in Paycheck Protection Program (PPP) loans and using part of the funds to buy the high-end sports car, which has since been seized by authorities, along with the more than $3 million he received.
The statement alleged that Hines submitted fraudulent loan applications in an attempt to receive $13.5 million in PPP loans for several companies, and was eventually approved for $3.9 million. Days later, he then failed to make payroll payments to employees that he claimed in his loan applications, but did buy a $318,000 2020 Lamborghini Huracan Evo as well as make purchases at "luxury retailers and resorts in Miami Beach" and on "dating websites."
"Those purported employees either did not exist or earned a fraction of what Hines claimed in his PPP applications," U.S. Postal Inspector Bryan Masmela said in the affidavit against Hines. "Collectively, Hines falsely claimed his companies paid millions of dollars in payroll in the first quarter of 2020. State and bank records, however, show little to no payroll expense during this period."
The criminal complaint also lists some of the places Hines allegedly spent the money, which include Saks Fifth Avenue, a diamond and jewelry store, and expensive Miami hotels, and it also lists at least $30,000 paid out to "Mom."
The Herald reported that federal investigators linked the Lamborghini to Hines after he was involved in a hit-and-run accident on July 11. He was arrested July 24 and held in federal custody over the weekend before appearing in Miami federal court on Monday. He is reportedly staying at his mother's home with a GPS monitor, and is due back in court in October.
Enacted on March 29, the Coronavirus Aid, Relief, and Economic Security, or CARES Act has provided emergency financial assistance for Americans struggling financially because of the COVID-19 pandemic. Part of the act entails distributing millions in forgivable PPP loans to small businesses (though the act has received backlash for distributing loans to many large companies.)