Multiple States Report Record High COVID-19 Case Counts After Reopening
Florida, Arizona, and Texas reported record-high numbers of new cases in a single day over the last week, nearly a month after reopening began.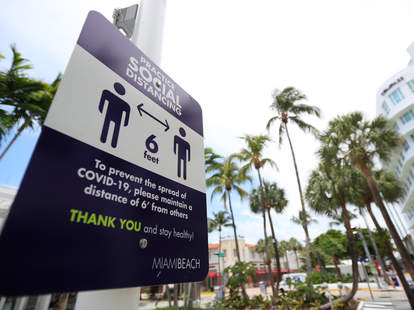 Social distancing signs in Florida. Getty Images.
Florida, Arizona, and Texas are seeing spikes in coronavirus cases after reopening in May and allowing crowds of people to flock to bars, restaurants, and businesses.
Of the more than 20 states that are reporting coronavirus spikes since reopening, the three states have the highest case counts yet, according to New York Times.
Florida saw a surge in COVID-19 cases after Gov. Ron DeSantis (R) greenlit a full phase one reopening plan May 18. On Wednesday, The Florida Department of Health reported more than 2,600 new cases—one day after the state government reported the highest single day report of new cases since the state's reopening.
Erika Crisp, a health care worker in Jacksonville, Florida, reportedly tested positive for COVID-19 after a night out at a local bar called Lynch's Irish Pub on June 6, according to WJXT. Crisp, 40, said 15 of her friends who also went to the bar tested positive.
In a Facebook post that is no longer publicly available, Crisp said she received more than 20 messages from people she didn't know who said they also tested positive after going to the same bar, according to BuzzFeed News.
The bar voluntarily shut down on Friday after its manager learned several customers and seven employees had contracted the virus. Lynch's general manager ‪Keith Doherty told WJXT that the restaurant was undergoing a deep cleaning before it reopened on Tuesday. Other nearby bars and restaurants also reportedly voluntarily closed temporarily.
Crisp told WJXT she and her friends had been social distancing for months before going out. She also said none of her friends were wearing masks.
"I think we were careless and we went out into a public place when we should not have," Crisp told WJXT. "I think we had a whole 'Out of sight, out of mind' mentality. The state opens back up and said everybody was fine, so we took advantage of that."
Major Florida theme parks that attract millions of tourists every year announced reopening strategies last month. Universal Orlando reopened on June 5, while Disney World announced a reopening plan for July 11.
In Miami, Mayor Francis Suarez said Monday that the large Florida city was not ready to move into Phase 3 of reopening.
This includes increased overall testing, Memorial Day, and a particular uptick in cases between 18-35 year olds. Based on the graphs below and recommendations from our team of experts, we are not currently contemplating a stay at home order or re-closing businesses in the City. pic.twitter.com/xTokT4o2fC

— Mayor Francis Suarez (@FrancisSuarez) June 15, 2020
In Arizona, the state reported about 500 cases of COVID-19 on May 11, the same week that Gov. Doug Ducey's executive order allowed dine-in restaurants, retail stores, barbershops, and cosmetologist services to start reopening. The number of cases nearly tripled by June 10, according to the Arizona Department Of Health Services—a record high for the state.
As businesses reopened, customers at a packed restaurant in Tempe, AZ appeared in a video standing closely together and mostly not wearing masks. Ducey called the restaurant "an outlier" amongst responsible business owners, according to AZCentral.
This was the scene last night at #CASA @casatempe - no social distancing. No masks. If Arizona has to shut down our entire economy again because of an outbreak - this is why. While a majority of people will follow the rules, enough people won't. pic.twitter.com/Wicn67FgDQ

— Brandon Lee CBS5 & 3TV (@BrandonLeeNews) May 12, 2020
In Texas, the Department of State Health Services reported the highest number of new COVID-19 cases in a single day on Tuesday, with more than 2,600 cases. Despite the rising number of cases, Gov. Greg Abbott said there is an "abundant hospital capacity" in the state, but made no mention of changing reopening plans.
"The best way to contain the spread of this virus is by all Texans working together and following simple safety precautions," Abbott said in a statement Tuesday. "COVID-19 still exists in Texas, and if we are to contain the spread while getting Texans back to work, all Texans must do their part."
Abbott signed an executive order in late April outlining the phases of reopening, which allowed malls, restaurants, museums, and other businesses to begin reopening on May 1. The order encouraged residents to wear face masks, but did not require them to do so.