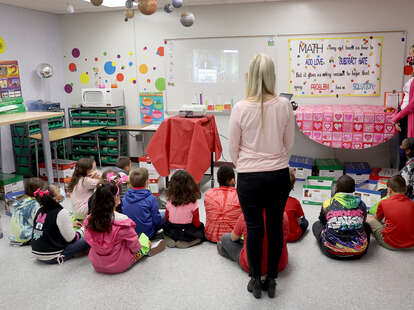 Credit: Getty Images
Credit: Getty Images
The state of Florida has rejected 41% of mathematics textbooks — 54 books in all — from its K-12 curriculum, indicating critical race theory as the chief reason.
In a news release from Florida's Department of Education released Friday, Gov. Ron DeSantis states, "It seems that some publishers attempted to slap a coat of paint on an old house built on the foundation of Common Core, and indoctrinating concepts like race essentialism, especially, bizarrely, for elementary school students. I'm grateful that Commissioner Corcoran and his team at the Department have conducted such a thorough vetting of these textbooks to ensure they comply with the law."
The memo also indicated that "Reasons for rejecting textbooks included references to Critical Race Theory (CRT), inclusions of Common Core, and the unsolicited addition of Social Emotional Learning (SEL) in mathematics. The highest number of books rejected were for grade levels K-5, where an alarming 71 percent were not appropriately aligned with Florida standards or included prohibited topics and unsolicited strategies."
The names of the rejected books were not included in the announcement. In June of 2021, DeSantis prohibited the teaching of critical race theory in schools.
Florida is one of a number of Republican-led states that has enacted or attempted to enact legislation that sees literature pertaining to critical race theory, sexism, sexual orientation, and gender identity outlawed in schools.
Since the start of 2021, the American Library Association found 729 instances of attempted book bans across libraries, schools, and universities: The number of cited challenges spanned across nearly 1,600 books and was the largest reported figure since the ALA began aggregating challenges over two decades ago, per the Associated Press.