Former Minneapolis Officer Derek Chauvin Charged With Tax-Related Felonies
Many have called out Chauvin for hypocrisy; he forcefully arrested and killed Floyd over alleged counterfeit currency, while allegedly having committed monetary crimes of his own.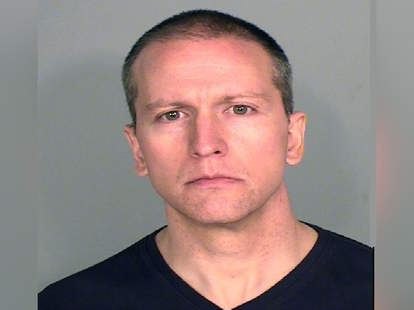 Getty Images / Provided by Ramsey County Sheriff's Office, former Minneapolis police officer Derek Chauvin poses for a mugshot after being charged in the death of George Floyd
Derek Chauvin, the former Minneapolis police officer charged with murder in the death of George Floyd, has been charged with multiple tax-related felonies, prosecutors announced.
The Washington County prosecutor's office announced Wednesday the charges against Chauvin and his wife Kellie May Chauvin that followed an investigation by the Minnesota Department of Revenue and Oakdale Police Department.
According to the announcement, investigators began reviewing the Chauvins in June for "failure to timely file Minnesota individual income tax returns from 2016 to 2019 and fraudulently filing tax returns from 2014 to 2019." NPR also reported the couple underreported their joint income over the years by $464,433, including more than $95,000 that Chauvin made from off-duty security work.
In a complaint obtained by Minnesota Lawyer, Derek Chauvin faces nine counts, which each carry a maximum sentence of five years in prison and a $10,000 fine.
"When you fail to fulfill the basic obligation to file and pay taxes, you are taking money from the pockets of citizens of Minnesota," Washington County Attorney Pete Orput said in a statement. "Our office has and will continue to file these charges when presented. Whether you are a prosecutor or police officer, or you are [a] doctor or a realtor, no one is above the law."
The charges against the couple also followed Kellie filing for a divorce from Chauvin shortly after Floyd was killed.
Many have called out Chauvin for hypocrisy; he forcefully arrested and murdered Floyd for allegedly trying to use a counterfeit $20 bill, while allegedly having committed monetary crimes of his own.
George Floyd allegedly spent a fake $20 bill and was killed for it.

The officer who killed him, Derek Chauvin, turns out to have underreported 23,221 times that amount in taxable income.https://t.co/5yHH2s2HJX

— Anand Giridharadas (@AnandWrites) July 23, 2020
The cop Derek Chauvin who murdered George Floyd over an allegedly fraudulent $20 bill—himself underreported $464,433 in income & owes $37,868 in fraud, interest, & fees

Incomprehensible hypocrisy https://t.co/Y9KcMM5f8Y

— Qasim Rashid for Congress (@QasimRashid) July 23, 2020
He killed George Floyd over a $20 counterfeit bill while he underreported $464,433 in joint income and owes $21,853 in taxes.

My god. https://t.co/u5gPS0VDoZ

— Gina (@Peril_in_Pink) July 23, 2020
Chauvin has been charged with second-degree murder, and the three other officers involved in Floyd's death are facing aiding and abetting murder charges. Their trial is tentatively scheduled for March 2021.
The Associated Press reported that neither Kellie's divorce attorney nor Chauvin's attorney in the Floyd case responded to request for comment.