Armed Protester Shot And Killed In Austin By Motorist Who Drove Toward Demonstrators
Garrett Foster was a regular at Black Lives Matter protests. He died after protesting with his fiancée Whitney Mitchell, who is Black and a quadruple amputee.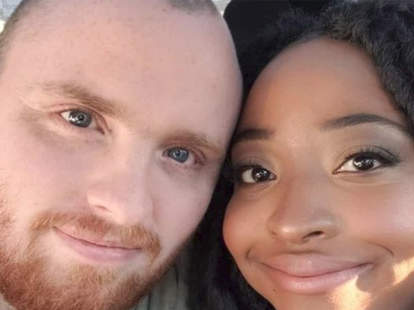 An armed protester was shot and killed during a Black Lives Matter demonstration in Austin on Saturday night, and police are investigating the death.
Garrett Foster, a 28-year-old white man, died at a medical center after he confronted someone in a car who drove toward a crowd of protesters just before 10 p.m. local time.
Foster had been regularly demonstrating in recent weeks with his fiancée Whitney Mitchell, who is Black and a quadruple amputee, according to multiple reports.
In Texas, openly carrying a weapon is legal. No other injuries were reported during the protest.
In a graphic video of the protest captured by independent journalist Hiram Gilberto Garcia that was streamed live on Facebook, protesters are heading toward an intersection when a driver approaches, honking the car's horn, and someone soon screams, "Everybody back up!" A round of five gunshots can then be heard, followed by another round of three gunshots.
In a video with a different angle, the car can be seen driving away as crowds ran for cover.

What police & witnesses have said
Foster died at a medical center after 10 p.m. from "multiple gunshot wounds" and resuscitation efforts on the scene failed, Police Chief Brian Manley said in a press conference on Sunday.
Manley said the department detained a person who called 911 and claimed to have shot someone who "approached the driver's window of their vehicle and pointed a rifle at them." Officers brought the caller into the homicide office for questioning and secured their handgun and car as evidence, Manley said.
Manley said the department is aware of "several different versions of the incident" and asked witnesses to come forward with more information.
Manley said the driver was the first person who appeared to fire a gun, and that a second person also drew a gun and fired it — corroborating information from video taken at the scene. Both of the people who fired weapons were detained and questioned by detectives; they were legal, licensed gun owners, Manley said, and have since been released from custody.
Manley said Foster was carrying an "AK-47 type assault rifle," and that he approached the vehicle as some crowd members began striking the car.
A witness told the New York Times that Foster approached the car "with the muzzle of his rifle pointed downward," and other witnesses reported similar accounts to The Austin Statesman.
"He was not aiming the gun or doing anything aggressive with the gun," Michael Capochiano, 53, told The Times. "I'm not sure if there was much of an exchange of words. It wasn't like there was any sort of verbal altercations. He wasn't charging at the car."
The person who shot Foster has not been identified.

Who was Foster?
Shortly before Foster was killed, Garcia interviewed him about his decision to bring a gun to the protest. Foster said his roommate was recently arrested at a protest, prompting his decision to bring a gun, though he didn't expect to use it.
"They don't let us march in the streets anymore, so I got to practice some of our rights," Foster said in the interview shown live on Periscope. "If I use it against the cops, I'm dead," he added.
A few hours after Foster died, demonstrators along with Mitchell convened outside of the city's police department to mourn his death, the Statesman reported.
"They've experienced so much hate just for their relationship in general," Foster's sister, Anna Mayo, told the Statesman. "From day one, [Foster has] fought to end that."
A GoFundMe set up to help Foster's mother, Sheila, cover his funeral expenses and has raised more than $100,000.
"He fought against injustice, served in the military and was fiercely protective of his fiancée," wrote organizer Patricia Kirven.
In an interview with "Good Morning America," Sheila Foster said that her son and Mitchell had been frequently going to protests. Foster was pushing Mitchell's wheelchair moments before his death, according to his mother.
"They've been participating in these protests almost every day for the past 50 days," Sheila Foster said.