General Motors Could Be Resurrecting The Hummer
The Wall Street Journal reported that the automaker could be turning the legacy name into an all-electric vehicle.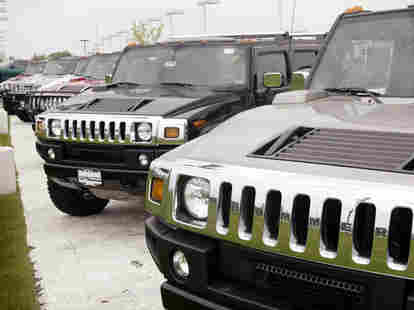 Getty Images
General Motors (GM) is resurrecting the Hummer—and it might be an all-electric car.
 
GM discontinued the Hummer in 2010, but according to a report by the Wall Street Journal, the company is reviving the controversial car. It will be sold under GM's premium truck division GMC and might be marketed as an all-electric pickup truck.
 
The WSJ reported, citing unnamed sources, that the Hummer's comeback will be announced in a Super Bowl commercial starring the NBA's LeBron James.
 
Hummers gained a following and boasted safety, but their meager gas mileage drew criticism —and at times vandalism— from environmentalists and those concerned about climate change.
 
"The Hummer was a lightning rod for controversy ... it was very polarizing," industry analyst Ed Kim told ABC News. "It was big and brash and people drove it to make a statement."
 
Some commentators, including Yahoo Finance's Rick Newman, have said that GM's rumored all-electric Hummer could help one of America's biggest automakers compete with electric car companies like Tesla.
 
"A radical battery-powered truck will demonstrate GM has something to show for its EV investments—something critics and buyers can get fired up about," Newman wrote in a column. "A zero-emission Hummer will also solve a problem for potential buyers who love the muscle but don't want to be ostracized for belching pollution."
 
The Super Bowl will air on February 2.