George Floyd's Girlfriend Knew Daunte Wright, Remembers Him As "A Silly, Goofy Boy"
"I'm full of sorrow. We are constantly doing a disservice to our children. It's so unfair."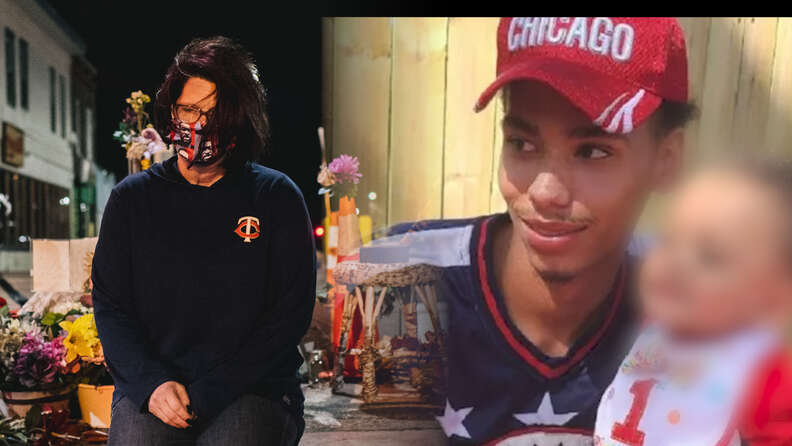 George Floyd's girlfriend, Courteney Ross, was leaving an event memorializing young men who have been killed by police when she heard the news that Minnesota police had fatally shot another Black young man during a traffic stop. Ross told the Washington Post that she soon learned the victim was 20-year-old Daunte Wright, a former student of Edison High School in Minneapolis — where she was once dean.
Ross spoke at the memorial event in St. Paul, Minnesota, on Sunday, in the midst of the murder trial of former police officer Derek Chauvin, who kneeled on Floyd's neck for 9 minutes in May 2020. She gave emotional testimony about Floyd during the trial in early April. Also Sunday, a Brooklyn Center police officer killed Wright.
While leaving the event, Ross told The Post that she was introduced to Amity Dimock, the mother of Kobe Dimock-Heisler, an autistic man who was 21 when Brooklyn Center police shot and killed him in 2019. As the two women spoke, Dimock's husband "checked a local crime app on his phone," according to The Post, and found out Brooklyn Center police had shot a young man at a traffic stop. The officer who fatally shot Wright on Sunday is Kim Potter, a 26-year veteran of the force who was one of the first to arrive on the scene when her colleagues killed Dimock-Heisler in 2019. Potter resigned Tuesday and was arrested Wednesday; authorities say she will be charged with second-degree manslaughter.
Ross told the Post that Wright as a student was "a silly boy, as goofy as can be," and "needed a lot of love."
"Students like Daunte needed more resources but they never got more resources," she said. "Our system doesn't serve kids like Daunte. And now I'm seeing, more than ever, this system I once believed in, we're done doing what we need to be doing to protect Black life."
Ross also told The Post that she and Floyd were walking together in Brooklyn Center — a suburb of Minneapolis — in summer 2019 when they saw Wright being confronted by police. That was the last time she saw Wright. Less than two years later, both men are dead.
"I'm full of sorrow. We are constantly doing a disservice to our children. It's so unfair," Ross said.
The Wright and Floyd families held a press conference together Tuesday with civil rights attorney Ben Crump, who is representing both of them. Wright's aunt, Naisha, also spoke about the connection.
Wearing a T-shirt with a photo of Floyd on it and the words "I can't breathe," Naisha said, "The craziest thing is to find out today that my family has connections to this man, this family. His girlfriend was a teacher for my nephew."
"My nephew was a lovable young man," she continued. "His smile, oh lord, the most beautiful smile — y'all took that."
Wright and Floyd's families aren't alone in their tragic connection. Another incident of police aggression that has captured national attention and outrage is out of Virginia, where 27-year-old Army second lieutenant Caron Nazario, a Black and Latino man, was pulled over by police for not having a permanent rear license plate in December 2020. Body cam footage of the incident has been widely shared this week, showing officers screaming at, intimidating, pepper-spraying, striking, and ultimately handcuffing the Army lieutenant, who remains calm (though appears confused and fearful) throughout the encounter.
Nazario considered Eric Garner an uncle, according to an exclusive report in The Washington Post published Wednesday. He grew up around the corner from Garner's mother, Gwen Carr, who has become an outspoken activist against police brutality and systemic racism since her son's 2014 death in New York City after police placed him in a chokehold in a confrontation that began over loose cigarettes. Garner's tragic refrain of "I can't breathe" became a national rallying cry.
Nazario "didn't want to pull over in the dark," according to The Post, "so he continued on for a brief stretch until he reached a well-lit BP gas station" where the officers drew their weapons on him and demanded he get out of the car.
Carr told The Post that she is "so glad he drove and he got to that gas station."
"I really thank God that it ended up the way it did because if he had stopped in that dark place, I'm sure they would have taken his life," she said.
Nazario filed a federal lawsuit against the officers this month for violating his constitutional rights, and Virginia's attorney general this week announced a civil rights probe into the officers.
The Chauvin trial has entered its third week and is expected to begin closing arguments the week of April 19.