Georgia's New Election Law Prohibits Giving Water To Voters In Line & Restricts Mail-In Ballots
Gov. Brian Kemp (R-GA) signed a sweeping voter suppression bill that was pushed through by Republican lawmakers. Critics call it an "anti-voter bill."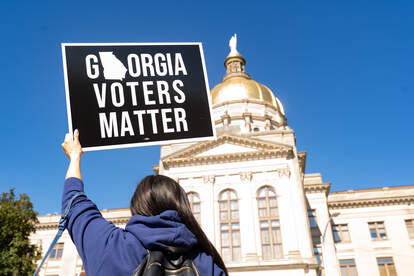 Georgia's Republican governor signed an elections bill into law on Thursday that adds new restrictions on voting including stricter absentee voting requirements and banning people from handing out food and drink to voters waiting in line. The bill comes just a few months after the key battleground state helped secure President Joe Biden a victory and flip the Senate to a Democratic majority.
Gov. Brian Kemp (R) signed the sweeping election bill called the "Election Integrity Act of 2021" that was created due to a "significant lack of confidence" in Georgia's current voting system following the 2018 and 2020 elections, according to the bill's text.
The new voting regulations include stricter processes for voting by mail — which millions of people nationwide chose as their way of voting in the 2020 due to the COVID-19 pandemic. According to the bill's text, voters will have a shorter window for casting their absentee ballot, and fewer drop-off locations will be available. Voters will also be required to show identification to vote by mail, instead of using signature matching.
Republicans repeatedly made voting by mail a contentious issue throughout the 2020 election. Former President Donald Trump and many of his allies stoked unfounded conspiracies around mail-in ballots, claiming they were more susceptible to fraud.
The Georgia law also shortened the early voting time frame for runoff elections from three weeks to one and mandated that the runoffs occur four weeks after the initial election. Democratic Senators Raphael Warnock and Jon Ossoff both won the state runoff election in January 2021, securing the Democratic majority in the Senate.
The new law also disallows people from offering food or beverage to voters waiting in line. During early voting in October, several Georgians reported waiting in line up to 11 hours to cast their ballots.
Many activists and nonprofits have criticized the new regulations imposed under the law, and called out officials who "rejected facts and embraced fear-mongering and conspiracy theories." They also pointed out that the bill would disproportionately affect people of color.
"Senate Bill 202 is an anti-voter bill that attacks absentee voting, criminalizes giving Georgians a drink of water to their neighbors, allows state takeover of county elections, and retaliates against the elected Secretary of State by replacing him with a State Board of Elections Chair chosen by the legislature—not the voters," Andrea Young, executive director of the ACLU of Georgia, said in a statement.
Nonprofit groups the New Georgia Project, Black Voters Matter, and Rise filed a joint lawsuit on Thursday against the state for "enacting a new voter suppression law that violates the US Constitution and the Voting Rights Act."
When asked about the state voting regulations being proposed Thursday — now passed by lawmakers — President Biden called it "sick" and "un-American."
"Deciding in some states that you cannot bring water to people standing in line, waiting to vote; deciding that you're going to end voting at five o'clock when working people are just getting off work; deciding that there will be no absentee ballots under the most rigid circumstances," Biden said during his first major press conference on Thursday at the White House. "This makes Jim Crow look like Jim Eagle. I mean, this is gigantic what they're trying to do, and it cannot be sustained."