"Go A Little Vegan": America Is Running Out Of Meat During The Pandemic
As nearly 5,000 meat workers have contracted COVID-19, President Trump is pushing for meat processing plants to stay open.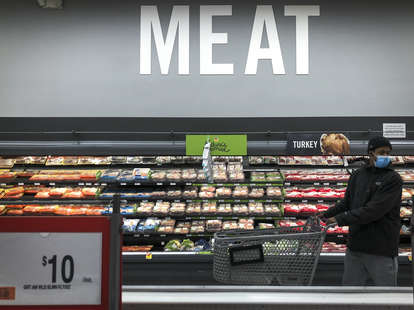 A grocery store in Washington D.C. Getty Images.
A grocery store in Washington D.C. Getty Images.
Meatpacking plants across the country were forced to shut down because of surging coronavirus cases, causing the country's meat supply to dwindle.
Major grocery stores, restaurants, and fast food chains have struggled to acquire pork, chicken, beef, and other products, as the meatpacking industry slows production. Grocery store chains including Kroger, Wegmans, and Hy-Vee are reportedly having difficulties finding meat suppliers— leading prices to increase by more than 8% at the end of April, according to Nielsen data cited by Business Insider. The report also said that experts predict the prices will continue to rise throughout May.
Costco announced this week it will limit the amount of pork, beef, fish, or poultry that customers can buy at one time, while more than 1,000 Wendy's locations have stopped selling burgers because of the shortage.
According to a Centers for Disease Control and Prevention report released on May 1, nearly 5,000 employees at 115 meat or poultry processing facilities across the U.S. tested positive for COVID-19, causing at least 20 deaths. The CDC cites "difficulties with workplace physical distancing and hygiene" as the cause for the high number of cases.
While the meat industry is taking a hit, plant-based company Beyond Meat reported a 12% increase in retail sales in March, while food service sales were 23% lower than its projections. The company also announced plans to reduce prices and offer larger packages of its meat substitute products as an alternative to the high-priced beef during the pandemic. CEO Ethan Brown told Reuters that the price reduction would only be temporary.
Florida Sen. Marco Rubio ( R) said on Wednesday during a "Fox & Friends" appearance that Americans would "have to go a little vegan" while the supply chain stalls.
On April 28, President Trump signed an executive order that mandates slaughterhouses and meat processing facilities to reopen, adding that the government would provide protective gear for employees. The order was met with criticism by labor unions and activist groups, who argued that employees would be putting their health at risk by going back to work. While some plants have reopened, factors including employees falling ill from the coronavirus and cleaning of facilities have slowed production.
On Wednesday, in a meeting with President Trump and Iowa Gov. Kim Reynolds (R), U.S. Agriculture Secretary Sonny Perdue said meatpacking plants could resume production within a week to 10 days.
Some observers have pointed out a meat shortage could positively impact the environment.
"A shortage in meat supply is certain, even if meat processing plants can and do comply with the order, because of recent plant closures," writes Andrea Freeman, associate professor of law at William S. Richardson School of Law. "The good news is that this shortage might lead to silver linings: a healthier population and a healthier planet."