GOP Lawmaker Resigns After Getting Arrested For Participating In U.S. Capitol Riot
A West Virginia state lawmaker has resigned after his arrest by federal authorities over the U.S. Capitol riot. Republican lawmakers from at least seven states participated in the insurrection and are facing calls for removal.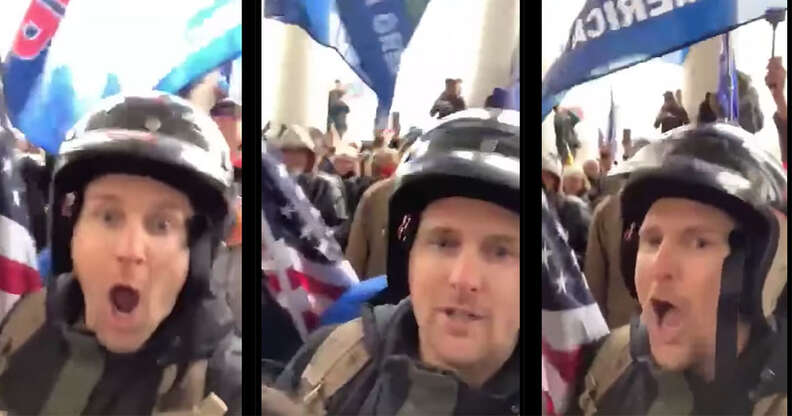 A newly elected state Republican official from West Virginia has resigned after being arrested and charged by federal authorities for illegally entering the U.S. Capitol last week as part of the pro-Trump mob.
Derrick Evans, who was sworn in to the West Virginia House of Delegates in December, was arrested Friday after his own livestreamed videos on social media showed him entering the Capitol as part of the mob. By Saturday, facing increasing calls for his removal, Evans resigned.
He was one of several state GOP lawmakers who participated in the insurrection at the Capitol, a deadly riot that has left at least 5 people dead, including one Capitol police officer.
Lawmakers from at least 7 states including West Virginia, Missouri, and Tennessee have been identified as participants in Wednesday's attempt to overturn the democratic process of certifying Joe Biden as the president-elect. All of those who participated or claimed they were there to observe are now facing calls to resign.
Before his arrest, Evans claimed that he was there as an "independent member of the media" (his attorney claimed he's an "amateur journalist") and tried to distance himself from violent rioters. But his own now-removed video livestreamed to his Facebook page, "Derrick Evans - The Activist," shows him wearing a helmet and saying to camera, "We're going in." Once the crowd broke into the Capitol, Evans said on video, "We did it! Derrick Evans is in the Capitol!"
Evans told others in the Capitol not to vandalize property, saying, "This is our house, and we respect it." He also ignored a request from an officer to exit the building, shouting in response, "Patriots inside, baby!"
He later deleted the videos, but not before they circulated on social media and led to calls from both West Virginia Republicans and Democrats for legal consequences or other professional repercussions. Evans' Facebook page appears to be deleted. Democrat Paula Jane Swearingen, who ran for Senate in West Virginia, uploaded a copy of the video to her page.
Evans submitted a one-sentence resignation letter, "effective immediately," to Gov. Jim Justice (R-WV) on Saturday, January 9.
In an additional statement, Evans said, "The past few days have certainly been a difficult time for my family, colleagues and myself, so I feel it's best at this point to resign my seat in the House and focus on my personal situation and those I love. I take full responsibility for my actions, and deeply regret any hurt, pain or embarrassment I may have caused my family, friends, constituents and fellow West Virginians."
According to The New York Times, the speaker of the West Virginia House and fellow Republican Roger Hanshaw was quick to condemn Evans for his participation in the riot and said the same day that he would "need to answer to his constituents and colleagues regarding his involvement in what has occurred today."
After Evans resigned, Hanshaw said on Saturday, "In announcing his resignation, Delegate Evans said he accepted responsibility for his actions and apologized to those he's hurt. In this time of overheated, hyperbolic political rage, I think that's a good first step for us all to take right now."
Lawmakers in the U.S. Congress as well as across state legislatures are calling on their colleagues who either participated or promoted the riot and related conspiracy theories about Trump's election loss to resign or face expulsion.
In other states:
The St. Louis Dispatch reported that Republican state representative Justin Hill "skipped his own swearing-in" to join the pro-Trump rally in Washington, D.C., where the president spoke midday Wednesday. At the end of his speech, he directed his supporters to march on the Capitol, many of whom followed suit. Hill said he did not go inside the Capitol.
The Daily Beast reported that Virginia state senator Amanda Chase also attended the pro-Trump rally, posting photos and videos from the event, as well as Pennsylvania state senator Doug Mastriano, "who helped charter a bus for attendees of the event."
"Neither appears to have taken part in the violent attack on the building," wrote reporter Kelly Weill. Fellow state lawmakers are still calling for expulsion or other sanctions for those who helped organize and encourage people to come to D.C. and disrupt the constitutional counting of electoral college votes for the presidency.
The arrest of West Virginia delegate Evans "was an indication that federal officials would use social media posts and other evidence to go after the insurrectionists even though they were allowed to leave the Capitol Building without being arrested and processed," Ryan Reilly reported at HuffPost.
Tennessee Republican lawmaker Terri Lynn Weaver tweeted a photo from the Capitol, calling it an "epic and historic day gathering with fellow Patriots from all over the nation."
Though not a lawmaker, one of the more high-profile photos circulating of right-wing vandals at the Capitol is of 60-year-old Richard Barnett, who broke into Speaker of the House Nancy Pelosi's office and was photographed with his feet up on her desk. Barnett later gave an interview identifying himself and said he took documents off of the speaker's desk. He was arrested in Arkansas Friday, the Justice Department announced, "on multiple criminal charges related to his alleged unlawful activities earlier this week." The DOJ said Barnett was expected to make an appearance in federal court Friday, and "will ultimately be extradited to Washington, D.C."
The assistant director of the FBI's Washington, D.C. field office, Steven D'Antuono, said, "I want to stress this: Just because you've left the D.C. region, you can still expect a knock on the door if we find out that you were part of the criminal activity at the Capitol."