Gov. Abbott Calls Books "Pornography," Attempts To Remove LGBTQ+ Titles From Schools
The governor of Texas continues his attempt to oust reading materials many Republicans deem unfit for classrooms.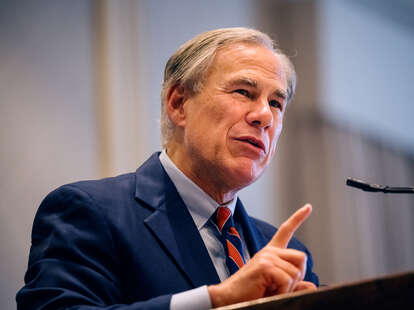 Credit: Getty Images

| Credit: Getty Images
Credit: Getty Images

| Credit: Getty Images
Texas Gov. Greg Abbott (R) has called on the state's school boards to investigate and eradicate books with subject matter related to race and gender from public school libraries and classrooms.
The move comes shortly after other state Republican lawmakers began a similar inquiry. On Monday, Abbott sent a letter to Dr. Dan Troxell, executive director of the Texas Association of School Boards, in which he called for the removal of content he classified as "extremely inappropriate" and having "no place in the Texas public education system."
In the letter, which was rife with references to pornographic material, Gov. Abbott cited Troxell's "obligation to Texas parents and students" that no child be exposed to such content while inside a Texas public school. Unsurprisingly, many took to social media to express their frustration at Gov. Abbott's comments, with some comparing the situation to living within a fictional, dystopian society built upon censorship.
While Gov. Abbott did not provide any examples of such content, other lawmakers have directed explicit attacks at the graphic novel "Gender Queer," a memoir by Maia Kobabe. In a statement released last week, Texas Republican lawmaker Jeff Cason called on Attorney General Ken Paxton to launch a statewide investigation into Kobabe's book and other LGBTQ+ reads.
Cason shared his statement on Twitter, referring to "Gender Queer" and other books that "may violate the Penal Code" as "criminal activity" that "should not be made available to children by the actual people who are tasked in educating them and keeping them safe from harm."
On October 25, State Rep. Matt Krause, who is chair of the Texas House Committee on General Investigating — and is a candidate for attorney general — wrote a lengthy letter to the Texas Education Agency's deputy commissioner about the investigation which he catalyzed.
In the letter, Krause included a list with the titles of roughly 850 books that were largely related to topics of sexuality, gender identity, race, and sexual health. An analysis of Krause's list by The Dallas Morning News found that "of the first 100 titles listed, 97 were written by women, people of color or LGBTQ authors."
Gov. Abbott has a history of undermining the health and safety of the LGBTQ+ community. Earlier in October, Texas's Board of Social Work Examiners unanimously voted to remove protections for sexual orientation, gender identity, and disability at the governor's request — effectively allowing social workers to deny LGBTQ+ and disabled clients assistance.
Earlier this year, Gov. Abbott was heavily lambasted after signing into law a restrictive bill that bans abortion after six weeks, a time at which most women are not yet aware that they are pregnant. In parallel, the governor maintained staunch opposition to mask mandates and discouraged the enforcement of measures to curb the spread of COVID-19.

Though the governor's letter condemning "pornographic" books is somewhat vague, it indicates yet another instance of systemic homophobia within Texas's Executive Branch and aligns with other alt-rightist measures Gov. Abbott has taken in a nesting doll situation of extreme policies.