Harvard, MIT Sue Trump Admin Over Plan To Kick Some International Students Out Of U.S.
"Its cruelty [is] surpassed only by its recklessness," the Harvard University president said of the plan.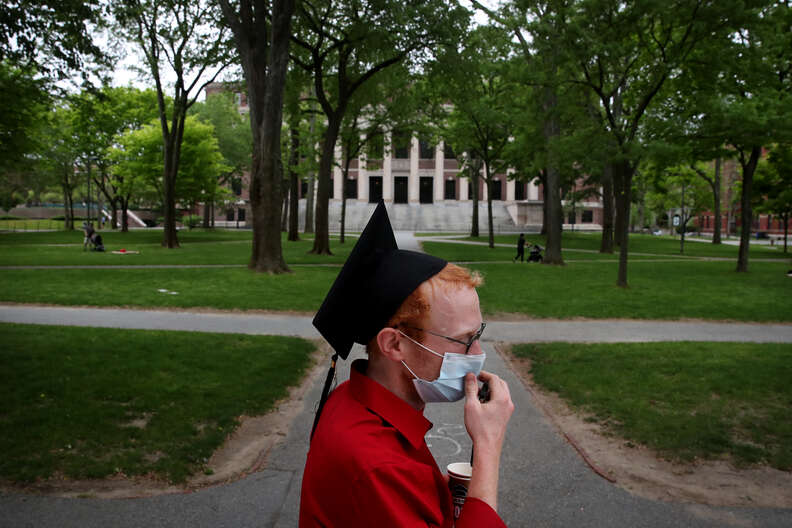 Harvard and the Massachusetts Institute of Technology (MIT) filed a lawsuit Wednesday morning against the Trump administration over its recently announced policy that would force international students out of the country this fall if they take fully online courses.
The universities filed the lawsuit in the U.S. District Court in Boston against the Department of Homeland Security (DHS) and Immigration and Customs Enforcement (ICE). They are requesting the District Court issue a temporary restraining order that would prohibit federal immigration authorities from enforcing the policy, which was announced just months before classes are set to resume.
"The order came down without notice—its cruelty surpassed only by its recklessness," Harvard University President Lawrence S. Bacow said in a statement Wednesday morning. "It appears that it was designed purposefully to place pressure on colleges and universities to open their on-campus classrooms for in-person instruction this fall, without regard to concerns for the health and safety of students, instructors, and others."
ICE announced Monday the administration's plan to rescind exemptions that allowed international students in the Student and Exchange Visitor Program (SEVP) to remain in the U.S. while they took online classes with their host universities or colleges.
Those exemptions, in effect during the 2020 spring and summer semesters, were allowed as nationwide lockdowns forced students out of classrooms due to the coronavirus pandemic. The move to revoke them comes as COVID-19 cases continue to surge across the U.S. and only a few months before classes are set to resume.
This means international college students in the U.S. are being given an ultimatum: attend classes in-person this fall or get out of the country. Read our original story to learn more about how this will work, who it will impact, and why the timing matters, here.