Health Care Workers Stand Up To People Protesting Stay-At-Home Orders
Protesters can be heard shouting "You get to go to work, why can't we?" at two people wearing scrubs and masks blocking a line of honking cars.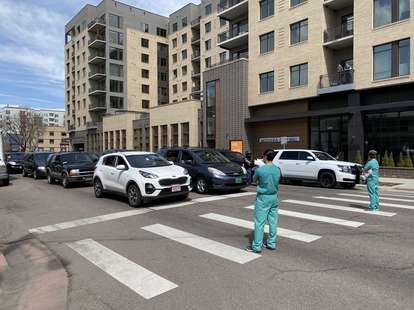 Two health care workers blocked a parade of protesters in Denver, Colorado on Sunday, who were storming the capitol to protest the state's stay-at-home order.
Powerful images and videos of the standoff were widely shared on social media of the two unidentified people wearing scrubs and N95 masks, standing in a crosswalk blocking protesters' vehicles. The two were identified as health care workers by photographers on the scene.
One video shared by Twitter user Marc Zenn, captured cars lined up and beeping their horns at the two medical workers, with a woman hanging out of her vehicle's window shouting "Go to China if you want communism. Go to China," and "You get to go to work, why can't we?"

Hundreds of people showed up on foot and in their vehicles for two separate protests in Colorado's capitol on Sunday. The protests were reportedly planned by ReOpen Colorado and "various Libertarian parties," according to a local Denver news outlet. People attending the march were shown carrying American flags, "Don't Tread on Me" flags, and signs about reopening businesses and schools.
"Coloradans have a first amendment right to protest and to free speech, and the Governor hopes that they are using social distancing and staying safe," Colorado Gov. Jared Polis' office said in a statement. "No one wants to reopen Colorado businesses and lift these restrictions more than the Governor, but in order to do that, Coloradans have to stay home as much as possible during this critical period, wear masks and wash their hands regularly to slow the spread of this deadly virus."
As of Monday morning, Colorado has more than 9,700 cases of COVID-19, leading to at least 420 deaths, according to the Johns Hopkins coronavirus tracker. The state of Colorado is set to continue its stay-at-home order until at least April 26, to slow the transmission of the virus.
Colorado isn't the only state where protesters are demonstrating against their government's stay-at-home orders—Several other states held protests over the weekend including Utah, Idaho, and Washington state. Last week, parts of Michigan, New York, Ohio, Virginia, North Carolina, and others also saw a wave of demonstrators.
President Trump encouraged the protesters last week during his Friday press briefing and in tweets which said to "liberate" multiple states holding protests. In a Politico poll, 81% of Americans agreed we "should continue to social distance for as long as is needed to curb the spread of coronavirus, even if it means continued damage to the economy." An NBC News poll found that 60% of responders agreed with keeping at-home restrictions.