Health Experts To Americans: Get A Flu Shot To Avoid "Twindemic"
Dr. Fauci emphasized the importance of Americans getting vaccinated against the flu. He said everyone who is six months or older should get a flu vaccine.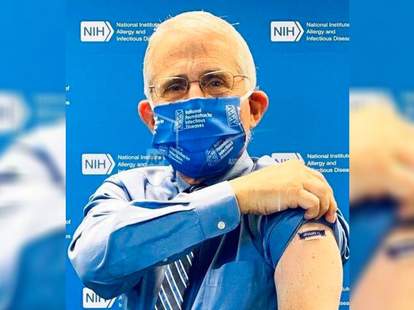 Health officials, including White House coronavirus task force member Dr. Anthony Fauci, are urging Americans to get a flu shot to avoid excess influenza cases combining with COVID-19 cases that could create a "twindemic."
During the National Foundation for Infectious Diseases' (NFID) virtual Influenza/Pneumococcal Disease news conference on Thursday, Dr. William Schaffner, the foundation's medical director, noted the seriousness of this year's impending flu season coinciding with the COVID-19 pandemic.
"As we look to the months ahead, the scary reality is that we could face a 'twindemic' of Covid-19 and influenza circulating simultaneously," said Schaffner, who moderated the conference.
Dr. Fauci emphasized during the conference the importance of Americans getting vaccinated against the flu, which the Centers For Disease Control and Prevention (CDC) also strongly advises.
"Everybody, six months of age or older, should get an annual flu vaccine," Fauci said.
Fauci added that it is "our personal responsibility to protect ourselves. But we also have a responsibility to protect the vulnerable around us, including young children, pregnant women, adults, 65 years of age or older and those with underlying chronic health conditions."
The CDC estimates that around 22,000 people died from the flu in the U.S. during the last flu season.
According to ABC News, the organization also estimates that only 48% of adults got vaccinated during the last flu season.
A NFID-commissioned survey found that 68% of U.S. adults agree that flu vaccination is the best preventive measure against flu-related deaths, but many do not plan to get vaccinated during the 2020-2021 flu season.
Meanwhile, as daily COVID-19 cases increase across the country, the U.S. continues to lead with the largest number of cases in the world with over 7 million cases, including over 210,000 deaths.