Healthy Roots Dolls Show Kids the Diversity of Natural Hair
The dolls come in a variety of skin tones, hair textures, and facial features. Presented by Amazon.
Yelitsa Jean-Charles never had a doll that looked like her growing up. On one occasion, when her parents tried to give her a doll that was Black, Jean-Charles said she cried because "it wasn't the pretty one that I saw on TV."
That moment inspired Jean-Charles to create her own company, Healthy Roots Dolls, to promote the diversity of natural hair and beauty. The company makes dolls that come in a variety of skin tones, hair textures, and facial features.
When it came to finding a name for the business, Jean-Charles wanted to center it on culture. "I came up with 'Healthy Roots,' which is like healthy hair, healthy cultural roots, making sure that children across the diaspora are tied to their backgrounds and where they come from, and celebrate that," she told NowThis.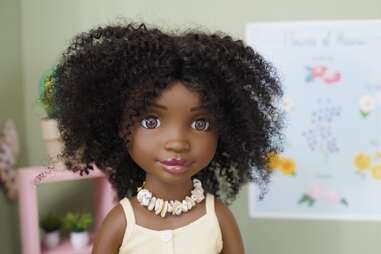 While Jean-Charles knew there was a market for Black dolls, she wanted to ensure they were also educational and could help young girls learn about their hair. "The first line of dolls are called the curl friends," she said. "They're dolls that are uniquely designed with hair full of curl power. They can actually wash and style just like your own hair, so that little girls can learn to love their healthy roots."
The dolls are able to have a full wash day, including washing, detangling, conditioning, and styling. Jean-Charles wants young kids to understand the process of styling their own hair by playing with their dolls.
"Toys influence how kids think, act, and see themselves. So if little Black girls can't find dolls that look like them, it can negatively impact their self-esteem," she said. "If 20 years ago I had had one of these dolls, maybe I wouldn't have struggled with my hair. Maybe I wouldn't have let other people's opinions about my appearance matter as much. Maybe I wouldn't have only just learned how to take care of my hair at 20 years old."