Heineken Dumps Plastic Rings & Shrink Wrap for Eco-Friendly Packaging
Getting rid of the shrink wrapping will help the company get rid of 517 tons of plastic per year.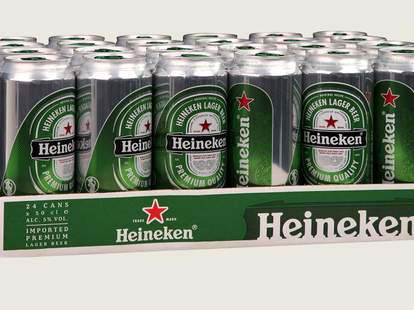 Heineken is ditching its traditional plastic rings and shrink wrap for more eco-friendly packaging. The "toppers" will instead be made from recyclable cardboard.
 
The company announced its plan for the toppers on Thursday, saying that they are sustainably-sourced and "100% recyclable and compostable." It has invested £22 million in technology and production facilities at its U.K. sites that will implement the new changes for their products. 
They plan to roll out the new toppers on Heineken, Fosters, and Kronenbourg 1664 multi-packs by April 2020, and have them on all of their brands' multi-packs by the end of 2021. Getting rid of the shrink wrapping will help the company get rid of 517 tons of plastic per year.
 
The single-use plastic rings, also called hi-cones or yokes, have become synonymous with pollution and plastic waste. And with more studies being released about plastic's devastating effects on the environment and wildlife, many companies are trying to curb their usage.
 
"The effect single-use plastic is having on our planet can't be ignored," Heineken U.K.'s marketing director Cindy Tervoort, said in a statement. "Creating an eco-friendly solution that eliminates plastic while still meeting consumer demand has never been more important in our business."