Here Are Some Volunteer Opportunities You Can Do From Home
With social distancing becoming a key component of slowing the spread of coronavirus, virtual volunteering is a way to give back without leaving your home.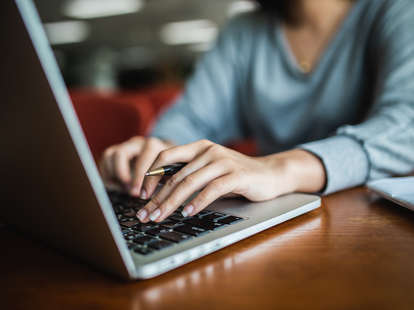 Getty Images
Getty Images
With the coronavirus pandemic changing the way we live through social distancing policies and orders to stay at home, it can be challenging to find ways to give back. But you can still give your time to a good cause with virtual volunteering.
Here are some ways to become a digital advocate:
People can join this online community by becoming a "listener" to help people through emotional stress — something deeply needed during this time of uncertainty. Users can even talk to licensed professionals if preferred.
The UN always has opportunities for online volunteering that can be done from your computer. Right now, there is an opportunity for volunteers to create educational and entertaining videos for children during the COVID-19 pandemic.
Amnesty decoders are people who volunteer to help with current projects about human rights research, which includes sifting through photos and documents.
Be a part of history by volunteering with Smithsonian—which has its "volunpeers" (volunteer peers) work on field notes, diaries, ledgers, logbooks, currency proof sheets, photo albums, manuscripts, biodiversity specimens, and more.
Volunteering as a crisis counselor can help people who need help or someone to talk to during a crisis. Volunteers use tactics like active listening, problem solving, and safety planning.
By installing the app on your phone, you can be on-call to help people who have visual impairments through everyday tasks like reading instructions, checking dates on food, and other small tasks.
Using the platform Second Life, volunteers can help raise money with virtual rallies and events—which are perfect for self-isolation and quarantine. You can help build the online world, maintain fundraising efforts, or just participate in virtual events.
Volunteers can translate works of text or crisis response through this online advocacy organization. If you're fluent in at least one other language, you're eligible to volunteer.
The American Red Cross is always looking for volunteers to help work remotely on marketing, data reporting, IT services and more during this health crisis. With the current need to practice social distancing, there are work-from-home opportunities available.