Here's How National Food Bank Shortages Will Impact Local Food Security
Higher prices mean that families who already struggle with food access are forced to take even smaller portions amid labor shortages and shipping delays.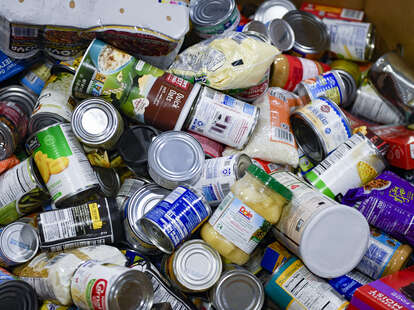 Food banks throughout the U.S. are being forced to reduce portion sizes for basic staples like eggs, milk, and peanut butter as a result of an increase in food prices, supply issues, and shipping delays.
Throughout the country, food banks are grappling with labor shortages in addition to inflation, with some food staples costing more than double what they did last year.
Stacy Dykstra, the CEO of the Regional Food Bank of Oklahoma, attributes the issues facing regional food banks to a sharp rise in freight costs. Compared to pre-pandemic prices, truckloads cost $3,000 to $4,000 more than what they used to, Dykstra said in an interview with ABC.
Shipping delays are also a factor impacting volume and variety:
"We are having trouble with canned vegetables, not quite as much of a variety," Dykstra said, "When we order, we are used to a two-week turnaround. It might take four to eight weeks."
Since the 1980s, the presence of food banks has spread across the globe. Initially designed as a way for communities to fight hunger and food insecurity, local food banks have long stood as a pillar of access to basic groceries for many American families, especially during COVID-19.
According to estimates from the Bureau of Labor Statistics, 45 million people experienced food insecurity as a result of the COVID-19 pandemic. Consumers saw a 1.5% increase in food index and a 4.3% increase in meat poultry and fish due to temporary closures of factories and slaughterhouses.
Amid the pandemic, it has also become more difficult to transport and move donated goods due to increased transportation costs and factory bottlenecks. For example, a workload arriving too quickly for the production process to handle is one common obstacle that has impeded the ability of food banks from obtaining moderately priced goods.
Low-income families face heightened food safety risks as a result, such as a lack of access to fruits and vegetables. Some canned foods, like mandarin oranges and pears from Asia, have been stuck overseas due to lack of shipping container space.
A recent spike in food stamps may help reduce food-related inequality for the 42 Million Americans who receive benefits.
In anticipation of the holidays, food banks are stocking items ahead of time and working on alternate solutions, such as recruiting volunteers, which prevents additional staffing costs.
"That money can help us with shipping costs," Dykstra said, "We're trying to be innovative to fulfill our mission to make sure that people whop are facing hunger get food ...They are seniors, they are disabled, they are children."