Here's How You Can Help People In Texas Right Now
The state is grappling with massive power outages as unprecedented winter weather sweeps through the country.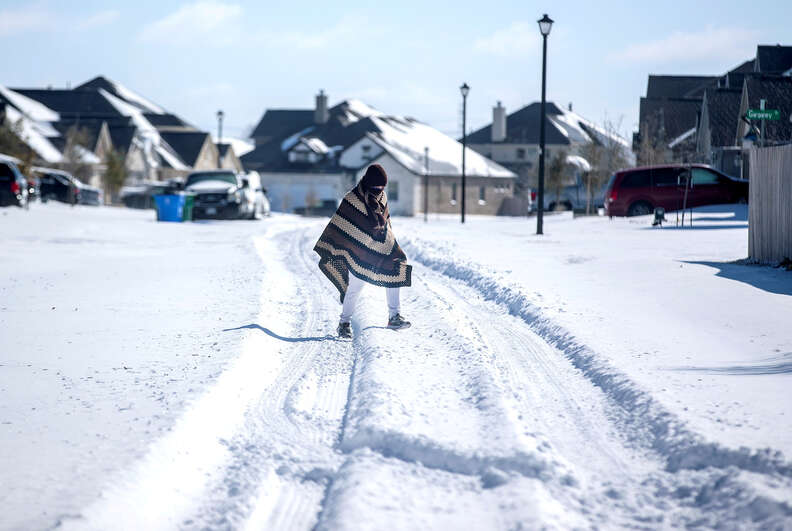 Millions are without power in Texas as the state battles its coldest temperatures in 30 years. The extreme weather conditions in some southern states have left people without heat and essential supplies as travel restrictions are in place.
More than 4.4 million people are without electricity in Texas as the state's power grid grapples with an increased demand. The National Weather Service (NWS) forecasts that temperatures will not rise above freezing until February 19.
At least 31 people have died in connection to the severe winter weather in eight states, according to the New York Times. Across the country, 150 million people in the U.S. were reportedly facing winter storm warnings on Monday — that's almost half the population.
On Tuesday, Bush Intercontinental Airport in Houston, TX reported temperatures of 17 degrees, the coldest observed temperature at the airport since 1989.
Many people have been forced to use generators and conserve energy in their homes, which if not used correctly could be dangerous. Austin Energy has helpful tips on how to stay safe during the unprecedented weather event.
While many people are still without power or essential items, multiple nonprofit organizations are providing supplies, while warming centers have been set up throughout the state.
Here are some helpful resources:

Throughout Texas, warming centers have been set up for people who need blankets, a place to sleep, or other essential supplies. A church in Houston is currently operating as a warming center, along with event centers and shelters in other parts of the state for people who need assistance. This map provides additional locations throughout the state.
Donate To Organizations Helping Those In Need:

Local organizations suggest donating blankets, gloves, coats, shoes, food, and other supplies to nonprofit organizations. If you're not local to Texas, there are ways to donate money or send supplies to local shelters for people experiencing homelessness, survivors of domestic abuse, and others in need:

This local organization is providing hotel rooms for people without a warm place to stay, along with other supplies. Donate here.

Donate here.