"He's Going To Keep Fighting": Biden Speaks With Jacob Blake During Visit To Kenosha
The former vice president traveled to Kenosha, WI, and met with Jacob Blake's family and Black community leaders, two days after President Trump visited, met with and praised law enforcement.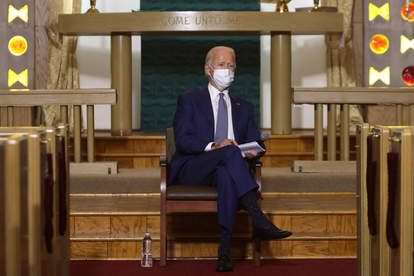 Democratic presidential candidate Joe Biden visited Kenosha, Wisconsin Thursday and met with members of Jacob Blake's family before attending a community listening session at a church, two days after President Trump visited and praised law enforcement. Kenosha's protests have become a flash point in ongoing anti-racism demonstrations, after a 17-year-old suspect with self-proclaimed ties to white militia groups allegedly shot and killed two people during a protest last week. Protests have been happening in the Wisconsin city daily since police shot 29-year-old Jacob Blake in the back seven times on August 23.
There were many contrasts between the president and the former vice president's visits, just days apart. Civil rights attorney Benjamin Crump, who is representing the Blake family, said the White House did not reach out about Trump meeting the family while he was in town. Crump released a lengthy statement Thursday on Biden's visit that said the former vice president and Dr. Jill Biden "had a very engaging 90-minute in-person meeting with the Blake family, including Jacob's father, sisters and brother."
Crump said he joined the meeting by phone, "as did Jacob's mother and Jacob himself from his hospital bed." Blake was left paralyzed from the waist down by the shooting. Biden, meeting with community leaders at Grace Lutheran Church in Kenosha Thursday afternoon, said Blake is now out of the ICU and they spoke for "about 15 minutes."
Biden said of their conversation, "He talked about how nothing was going to defeat him. How whether or not he walked again, he was going to keep fighting."
Regarding his meeting with the rest of the Blake family, Biden said, "What I came away with was the overwhelming sense of resilience and optimism they have about the kind of response they're getting."
That was Biden's theme for the afternoon, and he returned to it throughout the event, as he listened to several speakers from the community before responding.
"The first point I want to make to you all is I'm not pessimistic. I'm optimistic about the opportunity if we seize it," he said.
"[There is] an enormous opportunity now that the curtain has been pulled back. I think we've reached an inflection point in American history." Biden also said the "main reason I'm optimistic is because of your generation," referring to younger activists.
Black Lives Activists Kenosha organizer Porsche Bennett, 31, spoke at the event and went off-script with powerful remarks. She said her organization had given her a list of specific demands they wanted to discuss, but she wanted to speak from the heart.
"There's a lot more that we want done, and it didn't just start with Jacob," Bennett said. "But we want change. We want change."
'We want the same exact rights as others … we want the same treatment' — Listen to Kenosha woman Porche Bennett share this powerful message about police violence and racism against the Black community with Joe Biden pic.twitter.com/cWzqYtLJme

— NowThis (@nowthisnews) September 3, 2020
According to the pool report, some in the small audience nodded when Biden later spoke about not being able to truly put himself in the shoes of a Black parent who has to worry every time their child leaves the house. A former Kenosha police chief, John Morrissey, was also in attendance, according to the Biden campaign.
The former vice president addressed the moral emergency of Trump emboldening white supremacists, from 2017 in Charlottesville to 2020, as he's defending the Kenosha shooter, who is facing multiple homicide charges. 
'I thought you could defeat hate … it only hides' — Joe Biden knew he had to run for president when Trump said 'there are very fine people on both sides' after Charlottesville pic.twitter.com/UXUMpVj26k

— NowThis (@nowthisnews) September 3, 2020
The event was not without its tone-deaf moments or a Biden gaffe; at one point, when he was giving an extended answer about his various proposals for reform, he said he could go on, but he wouldn't "because they'll shoot me." (He had been making several references during lengthy answers, anticipating event organizers cutting him off.)
Biden, recounting the racial unrest in Wilmington in the 1960s and his feeling that Blacks and whites would never speak again

Then flashes-forward to standing at a Wilmington train station on the day of Barack Obama's inauguration in 2009

"Don't tell me things can't change." pic.twitter.com/lVYsHKBI8S

— Johnny Verhovek (@JTHVerhovek) September 3, 2020
Yesterday, Biden said he believes the officers who shot Blake as well as Breonna Taylor in Kentucky should be charged: "Let's make sure justice is done."
Before President Trump's visit on Tuesday, state and city leaders made it clear that he should reconsider going to Kenosha, as many believed he would continue to fan the flames of racial conflict. Local NAACP president Anthony Davis had the same message for both Trump and Biden, saying "Kenosha would welcome them any other time, but things here are fragile. And we, in this community, really need to put our energy into healing ourselves, sitting down and speaking in detail only the way that locals can."
Kenosha resident Clair Rasmussen, who is white, told NBC News that Biden's "not such an antagonist [like Trump], so I'm glad the other side is coming, because it just shows Kenosha there's support."
At the event Thursday, Tim Mahone, a local foundation president, said Kenosha is going through a "time of healing, hurt, and pain," and that Biden's leadership is "all about healing, not division." Another speaker referenced Trump's visit and said: "Someone came here to take a victory lap, to sow division, not to help us."
In Crump's statement about Biden and his wife, Dr. Jill Biden, meeting the Blake family Thursday, he said, "They talked about changing the disparate treatment of minorities in police interactions, the impact of selecting Kamala Harris as a Black woman as his running mate, and Vice President Biden's plans for change. Mr. Blake Sr. talked about the need for systemic reform because the excessive use of force by police against minorities has been going on for far too long. Jacob Jr. shared about the pain he is enduring, and the vice president commiserated."
Trump won Kenosha County in 2016 by less than half of one percentage point (just 255 votes) and was the first Republican to win the county in 44 years, according to NPR. Recent polling has shown Democratic presidential nominee Joe Biden leading in Wisconsin — which is a key battleground state in the upcoming election.
"I can't tell you everything will be solved in four years. But I can tell you one thing, it's gonna be a heck of a lot better, we're gonna move a little further down the road," Biden said Thursday.
"This is the first chance we've had in a generation to cut another slice off institutional racism, toward getting to the place where change is."