Paid Content For

Homes Not Borders Is Turning Refugee Housing Into Homes
The organization helps families with everything from furniture to forks and knives. Presented by Amazon.
Paid Content For

Homes Not Borders is a Maryland-based nonprofit helping refugee families get settled and feel welcome in the U.S. It was started in 2017 to help set up homes for families seeking asylum during the Syrian civil war.
"There's three resettlement agencies in the D.C. area. We began helping one resettlement agency," Laura Thompson Osuri, executive director of Homes Not Borders, told NowThis. "By the end of one year, we were helping all three and then providing everything from furnishing to the forks and knives."
Homes Not Borders says it helps families in a variety of ways, including cost-saving. For example, its services save a family of four approximately $3,200 in home furnishing, according to the organization.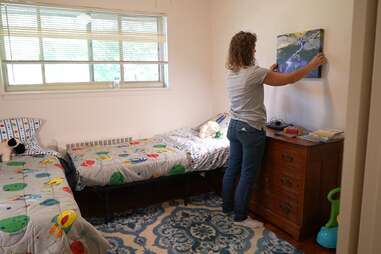 "The most rewarding thing is just how we can help these people right as they come to the United States," Osuri said. "We've realized how crucial it is … to have a comfortable and welcoming home to go into and just kind of start your life over. 'Cause these people have been through a lot."
If there are any refugee families in need in your neighborhood, Osuri says there are ways you can help as an individual, too, from finding them a landlord who will rent to a family without credit history to showing them where the local grocery store is located.
"Finding an organization like Homes Not Borders and trying to get connected to refugee families or just donating furniture that's in good condition, something you give to your friend or neighbor," Osuri suggests. "Just supporting them in that way is really useful."