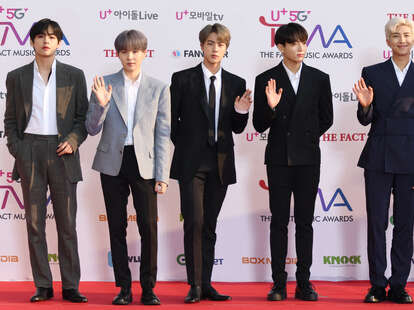 Getty Images: The Chosunilbo JNS / Contributor
Getty Images: The Chosunilbo JNS / Contributor
https://copyrightalliance.org/faqs/what-is-dmca-takedown-notice-process/A group known as Team Copyright
has been working to get BTS stan accounts kicked off Twitter, reportedly over the group's support for LGBTQ rights.
Based in Bangladesh, Team Copyright is believed to have been saving pictures originally uploaded by BTS stan accounts to its own websites and Flickr accounts, after which it
changes the dates on the images so that they predate the original fan upload.
Next, Team Copyright reportedly files fraudulent copyright complaints to Twitter, on the grounds that BTS fans are "stealing" their images.
As a result, many BTS fans are hit with https://copyrightalliance.org/faqs/what-is-dmca-takedown-notice-process/ and subsequently, their posts are removed. In some instances, fan accounts are deleted, too.
Members of the A.R.M.Y, which is the name of the expansive BTS fan base, have been known to convene on social media to celebrate their idols. Now, fans risk receiving lawsuits for seemingly innocuous posts.
According to a recent Facebook post, Team Copyright's motives for specifically targeting BTS fans are rooted in homophobia. Members of Team Copyright wrote in the post, "We have suspended their accounts because they are supporting g/a/y and atheist fans."
The post is referring to RM of BTS, who has been a vocal supporter of LGBTQ rights, and previous speeches by the band itself, such as its United Nations speech.
In the speech, RM encouraged fans to be themselves, saying, "I want to hear your voice. I want to hear your conviction," RM said. "No matter where you're from, skin color, gender identity, just speak for yourself. Find your name and find your voice."
Murmurs of the trolling began in September, with many fans speaking out about the issue on Twitter ultimately finding their accounts deleted.
According to BuzzFeed, fans who seek to quietly report abuse to Twitter must file a counter notice to the Digital Millennium Copyright Act and in doing so, are required to provide personal information such as a home address, email and phone number, all of which can be used by trolls and prompt further harassment.
BTS took home three awards at the 2021 American Music Awards on Sunday night, including artist of the year.