Hospitals Are Being Forced To Turn Away Other Patients As COVID-19 Cases Fill Beds
An oncologist in Tampa, Florida, said he was forced to refuse the transfer of a patient with brain cancer because there was no space in the hospital.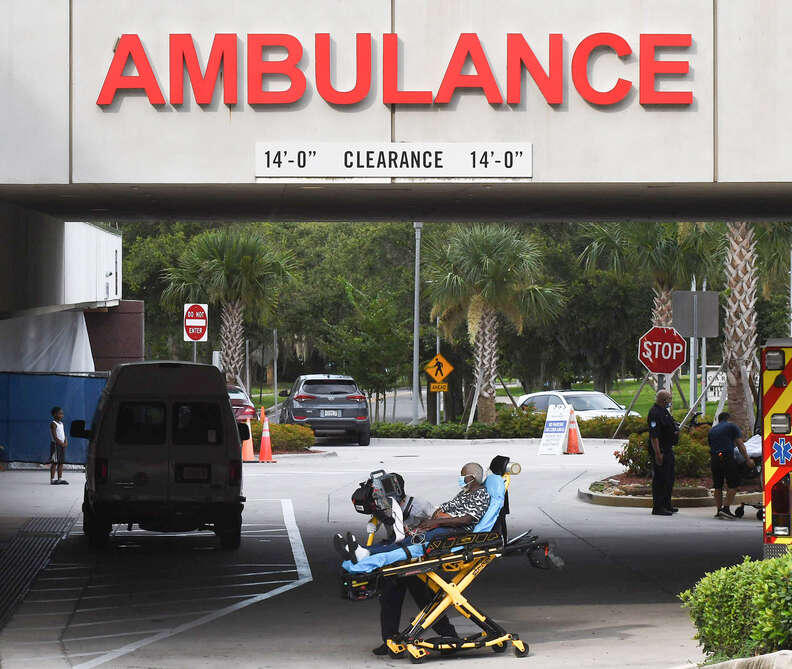 Florida hospitals are filling up with COVID-19 patients as the Delta variant surges across the country, forcing doctors to turn away other patients because there's no room.
The state has broken its records for new case numbers and deaths this month, recording more than 150,000 new COVID-19 cases in one week, including at least 1,486 deaths, according to Johns Hopkins University. More than 17,000 people in Florida are hospitalized for the virus and 94% of ICU beds are full.
Dr. Nitesh Paryani, a radiation oncologist in Tampa, wrote an opinion piece for The Washington Post explaining how hospitals that are overrun with COVID-19 cases are having a difficult time caring for patients with other medical needs.
"But the surge has also affected non-covid patients, such as the Texas shooting victim who had to wait more than a week for surgery. Louisiana stroke victims who can't get admitted to hospitals. And the cancer patient I recently had to turn away," Paryani wrote.
He went on to say that earlier this month he was forced to say no to a transfer request for a patient with metastatic brain cancer because of the amount of COVID-19 patients in the hospital — "more than 90 percent of whom were unvaccinated."
"We had paused elective surgeries the previous week and have been trying to control the influx of patients," Paryani continued. "Our emergency department had a 12-hour wait that day."
Paryani also debunked the belief held by many anti-vaxxers that the COVID-19 vaccines cause more damage than the actual virus would, saying "there's really no reason that people should be avoiding the vaccine." About 53% of Florida's population is fully vaccinated.
"There's not a single patient that we've had to intubate because of a complication from the vaccine. The people we're intubating, the people that are on life support, the people that are dying are the ones that are not vaccinated," he told CNN.
Florida's dire situation comes as Gov. Ron DeSantis (R-FL) continues his fight against mask and vaccination mandates. Despite his executive order that banned schools from implementing a mask mandate, more than half of the state's schools have defied those orders, according to a recent report. Florida's State Board of Education threatened to withhold funding and salaries if the order is defied, but the Biden administration has vowed to use federal money if those sanctions happen.
In Hillsborough County, Florida, Tampa Bay Water is urging residents to conserve water usage and to expect their tap water to have a different taste as the area diverts liquid oxygen to hospitals for patients. The oxygen is typically used to purify the water but has been in short supply as severe cases of COVID-19 increase.
Florida isn't the only southern state facing a crisis of COVID-19 hospitalizations. In the past month, states including Texas, Mississippi, Alabama, and Kentucky have all experienced spikes in hospitalizations. Texas Gov. Greg Abbott (R) asked for out-of-state medical professionals to aid the state's hospitals. Arkansas Gov. Asa Hutchinson is urging people to get vaccinated after reporting that there are no more ICU beds left in the state.
During a Florida Medical Association meeting last month, Dr. Paryani said data from the health department predicted that the spike in cases may continue until October, leaving him and his colleagues wondering: "How were we going to handle this type of onslaught for three more months?"