House Moves Forward With Impeachment After Pence Refuses To Remove Trump From Office
The House Of Representatives passed a resolution on Tuesday that calls for Trump's removal for inciting the violent attack at the Capitol Building last week.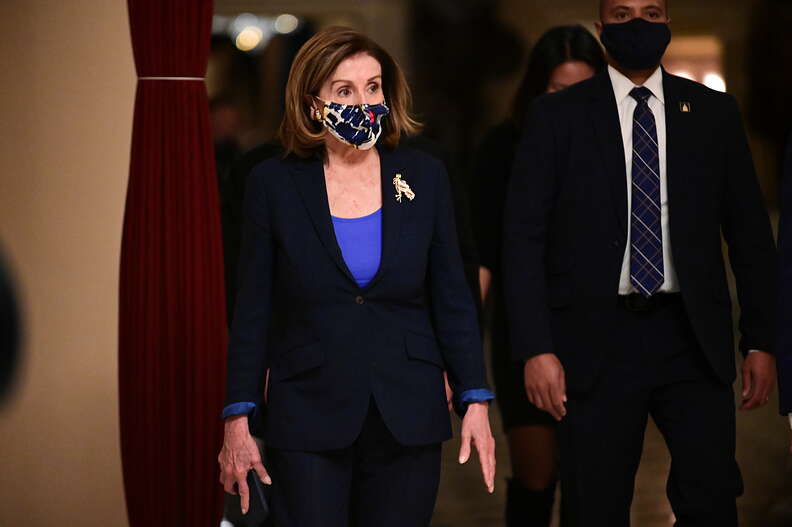 The House of Representatives have passed a resolution on Tuesday calling on Vice President Mike Pence to invoke the 25th Amendment and remove President Donald Trump from office in light of last week's domestic terrorist attack at the U.S. Capitol. The resolution passed in a near party-line vote of 223 to 205, with one Republican joining Democrats to call for Trump's removal.
The House passed the resolution even after Pence sent a letter earlier Tuesday to House Speaker Nancy Pelosi, rejecting lawmakers' calls to remove the president from office. With Pence having signaled he will not invoke the 25th Amendment, the House has moved forward with a debate Wednesday on an article of impeachment that representatives introduced earlier this week.
"I do not believe that such a course of action is in the best interest of our nation or consistent with our Constitution," Pence wrote in his letter to pelosi. "I will not now yield to efforts in the House of Representatives to play political games at a time so serious in the life of our nation."
The House resolution states that Pence should "immediately use his powers under section 4 of the 25th Amendment to convene and mobilize the principal officers of the executive departments in the Cabinet to declare what is obvious to a horrified Nation: That the President is unable to successfully discharge the duties and powers of his office."
Slowly, more House Republicans have come out in favor of impeachment.
On Tuesday, Rep. Liz Cheney (R-WY), the third-highest-ranking Republican in the House, announced that she would vote in favor of impeaching Trump, saying that "there has been never been a greater betrayal by a President of the United States of his office and his oath to the Constitution." Reps. Adam Kinzinger (R-IL) and John Katko (R-NY) have also come out in favor of impeachment. Mitch McConnell, the most powerful Republican in the Senate, has also signaled that he would support impeachment, the New York Times reported.