How Artist Nikkolas Smith Embodies The Humanity Of Black Lives In His Viral Paintings
The illustrator has developed an anti-racism toolkit alongside fellow creators to guide artists through the journey of "artivism."
In the year following the death of Trayvon Martin, protests and walkouts were staged across the U.S., with demonstrators donning hoodies in honor of the 17-year-old, who was shot and killed while wearing a hoodie and holding a bag of Skittles.
During this time, artist Nikkolas Smith created a portrait that would embody the justice protesters were fighting for.
"That was the moment where I realized the power of artivism and the power of using art to help inspire people to make a positive change," Smith explained in an interview with NowThis.
His portrait of Martin Luther King Jr. in a hoodie went viral the weekend of July 13, 2013, when George Zimmerman, who faced murder and manslaughter charges in Trayvon's death, was acquitted and the Black Lives Matter movement began.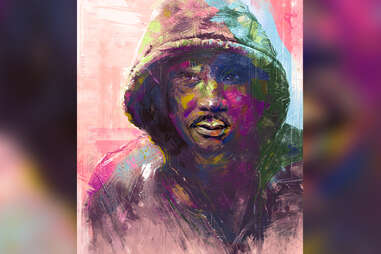 A native of Houston, Texas, and a graduate of Hampton University, Smith designed for Disney theme parks as an "imagineer" for more than a decade. But he knew that art was his real passion. And this moment changed everything. In 2013, Smith began his Sunday Sketch series — weekly paintings that he creates and shares on social media.
"It all started as art as therapy," he said. "I'm tackling these broken bones of the world."
His self-described "really ugly scribbles" transformed into digital speed paintings that are now recognized across the internet. They often focus on "broken bones" at the center of the news cycle — portraits of migrant mothers, cultural icons such as the late Kobe and Gigi Bryant, and Black lives lost to police brutality.
Despite the seriousness of the topics that typically inspire his art, Smith said he works to add warmth to each piece.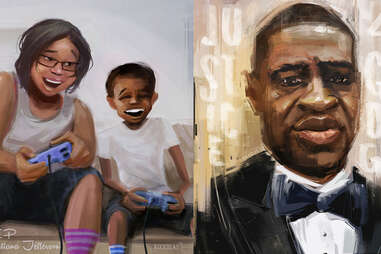 "I didn't want to show the tragic end, but right before, that joyful moment when she was playing video games with her nephew," he described his illustration of Atatiana Jefferson, a Black woman shot by police in her Texas home in 2019. Some of Smith's portraits now hang in the homes of the families of victims.
"I'm just trying to show that humanity in a society that has for centuries tried to devalue Black lives and minority lives… keep emphasizing and hitting home the fact that we have as much value as anyone else."
In the years since Black Lives Matter began, Smith has written and illustrated children's books and created posters for films including "Black Panther." Former First Lady Michelle Obama has shared his art, and President Donald Trump has blocked (and unblocked) him on Twitter, he said.
But his Sunday Sketch series remains a backbone to his work. Taking a page from the late singer Nina Simone who once said, "It's an artist's duty to reflect the times," Smith has continued to create weekly paintings.
In a new toolkit developed for Skillshare, Smith outlines how anti-racist artists can create with a purpose. He shared some words of advice with NowThis:
Post your work online. "You can not be afraid to just create something and put it out there."
Share resources, petitions, and tangible solutions. "People are scrolling a million miles an hour. If you can stop them with a visual statement, use that five seconds to show them something they can do to fix the situation or enlighten them on a problem."
Do your research and follow activists online, such as Samuel Sinyangwe and Paola Mendoza. "If you're a creative who wants to create some artivism, it's so helpful to have this info as ammunition. It's amazing to see the power of social media combined with a movement."
Branch out to new people and communities. "Meet as many 'not like you' people as you can in life."
Over the summer, Smith and his wife Vanessa, a documentary filmmaker, welcomed their first son, Zion, into the world. He says he wants his young son to live without fear of how his brown skin will be perceived and treated.
"I hope that in some way, my art can help push the needle in that direction, so he can live in a more equal and just world," Smith said. "I feel like that's kind of the goal for every generation. We have to make it better than it was."