How The Coronavirus Is Affecting Immigrants and Refugees
Plus, anti-immigration policies put people at an even higher risk.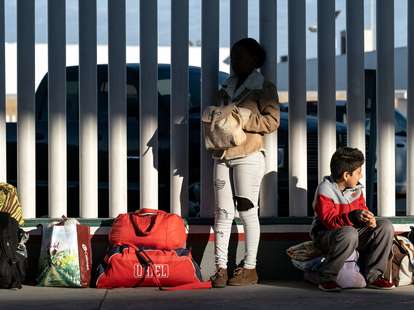 Getty Images
Getty Images
Migrant camps exist all over the world and are uniquely vulnerable to illnesses like the novel coronavirus, as they are often crowded far past capacity, and don't have access to enough resources when it comes to quarantining and social distancing.
In the U.S., policies implemented by the Trump administration put migrants at a higher risk for contracting illnesses. Their "public charge" rule, which was announced in February, makes it more difficult for legal immigrants to obtain a green card if they access federal benefits like Medicaid. This means they are less likely to access medical plans that would allow them to contact doctors to report their symptoms. And though the U.S. Citizenship and Immigration Services said on March 13 that seeking treatment or preventive services won't affect migrants' immigration status under the controversial rule, the announcement came after lawmakers and advocacy groups repeatedly urged the government to suspend the rule amid the pandemic.
The "Remain in Mexico" policy also requires that most asylum seekers have to wait for their court hearings in Mexico after they're processed by U.S. immigration. Prior to the policy, migrants would be released into the U.S. after processing. Now, they are given papers telling them to wait in Mexico until their immigration hearing, many of which happen months after migrants arrive. This policy has forced immigrants to wait in border Mexican cities in tent encampments or crowded shelter systems, making them vulnerable to robberies, assault, or illness.
Noncitizens are already more likely to be uninsured to begin with, putting them at a higher risk when faced with a health crisis like this one. Due to their legal circumstances, they are often unable to get jobs that provide health insurance, and less likely to have a regular source of care.
Prisons are also at high risk for spreading illnesses. The Federal Bureau of Prisons announced on Friday a 30-day suspension of social visits by inmates' friends and family in an attempt to contain the COVID-19 spread — but many are still wary about how fast the virus would spread in tight and often-overcrowded prison sites.
The threat to immigrant safety isn't just a problem in the states. Last week, medical charity Médecins Sans Frontières (Doctors Without Borders) urged Greece to evacuate the tens of thousands of migrants living in overcrowded camps throughout its islands, following the first reported COVID-19 fatality among over 100 cases in the country.
"The evacuation of the camps on the Greek islands is now more urgent than ever," the charity said. "We need to be realistic: It would be impossible to contain an outbreak in such camp settings."
Advocates in the UK are also calling for hundreds of immigration center detainees in the UK to be released, fearing that they will contract the virus while being locked up.