Hulu Criticized For Removing "Golden Girls" Mud Mask Episode Over Blackface Concerns
Some people called the move "counterproductive" after an episode that featured two of the show's characters in brown mud masks was removed.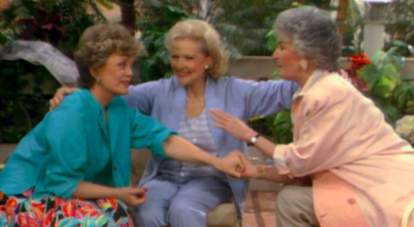 "The Golden Girls" Credit: Hulu
Hulu is facing criticism for removing a 1988 episode of "Golden Girls," which features two of the main characters in mud masks, over Blackface concerns.
The season 3 episode, called "Mixed Blessings," centers around Dorothy (Bea Arthur), and her son, Michael, who is engaged to a Black woman who is twice his age named Lorraine. In the episode, Dorothy expresses concerns over their age difference, while Lorraine's family does not approve of her marrying a white man.
In one scene, Lorraine's family visits Dorothy's house, while the other main characters Rose (Betty White) and Blanche (Rue McClanahan) are using brown mud masks. After Lorraine's mother is stunned, Rose says "This is mud on our faces, we're not really Black."
After Hulu removed the episode from its catalogue, several people disagreed with the decision, with some calling the removal "counterproductive." The move comes as many creators in the media and entertainment industries are making modifications amid nationwide protests against systemic racism.
Several other shows have recently pulled old episodes over use of Blackface, including NBC comedy "30 Rock." Four episodes of the show were removed from streaming platforms last week at the request of co-creator Tina Fey. Hulu also removed three episodes of "Scrubs" from its library that feature white characters in Blackface, while a scene from "The Office" that shows Dwight in Blackface was edited out of an episode, creator Greg Daniels said last week, Variety reported.
Animated shows have also seen changes in recent weeks. White actors Jenny Slate and Kristen Bell announced last week that they would no longer voice biracial characters in "Big Mouth" and "Central Park," respectively.
On Friday, "The Simpsons" producers said in a statement that the show would no longer use white actors for non-white characters, which comes months after Hank Azaria said he would no longer voice the show's Indian character Apu Nahasapeemapetilon. "Family Guy" actor Mike Henry also announced Friday he would no longer voice Cleveland, a Black character, after more than 20 years.