Hundreds of Thousands Protest U.S. Military Presence in Iraq
Demand for U.S. troops to leave Iraq has increased since the targeted U.S. airstrike on January 3 that killed top Iranian general Qasem Soleimani and Abu Mahdi al-Muhandis.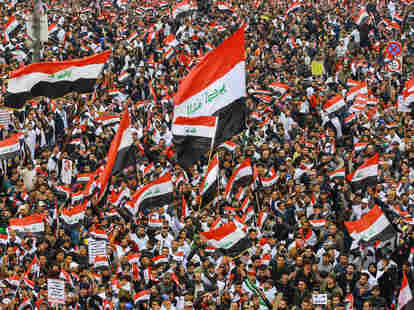 Getty Images
Hundreds of thousands of Iraqis marched through Baghdad on Friday, protesting U.S. troop presence in Iraq. According to CNN, the protest was organized by prominent Shia cleric Muqtada al-Sadr who called for a "Million Man March."
 
The demand for the roughly 5,300 U.S. forces to leave Iraq has increased since the targeted U.S. airstrike on January 3 that killed prominent Iraqi government member Abu Mahdi al-Muhandis and Qasem Soleimani, the Iranian Major General who led the Quds Force of the Islamic Revolutionary Guards Corps. Soleimani was killed as he left the Baghdad airport.
The airstrike was authorized by President Donald Trump, who did not seek congressional authorization before proceeding. Following the attack, Iraq's parliament voted to expel U.S. troops from the country.The Trump administration has said it doesn't intend to withdraw troops, calling into question Iranian sovereignty.
 
Rather than holding smaller rallies in different cities, protesters arrived by bus to the capital city for one massive march, waving Iraqi flags and signs urging U.S. troops to leave. There was heavy security presence surrounding the march's path, particularly around the Green Zone, where the U.S. embassy is located.
Since the airstrike in January, the embassy has been the target of multiple rocket attacks. Iran also retaliated against the airstrike earlier this month by launching missiles at an Iraqi base housing U.S. forces. No casualties from that incident were reported. 
The protests, which will be ongoing, come just one day after Iraqi President Barham Salih called on world leaders at the World Economic Forum to work to protect Iraq's sovereignty. Protests in the country are expected to continue every Friday until demands are met.