"I Feel Threatened!": Man Fired From Insurance Job After Mask Tirade At Florida Costco
Costco required face masks to be worn in stores in May, before a recent resurgence of COVID-19 cases in Florida and other Sun Belt states.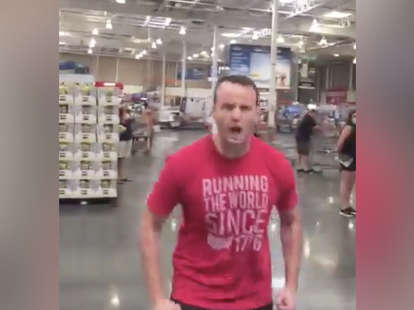 A man appeared in a video furiously screaming at a Florida Costco after he was asked to wear a mask.

| Twitter/ Billy Corben
A man appeared in a video furiously screaming at a Florida Costco after he was asked to wear a mask.

| Twitter/ Billy Corben
A man who appeared in a viral video shouting "I feel threatened!" after he was asked to wear a face mask at a Costco in Florida was fired from his job at an insurance firm.
The man was identified in multiple reports as Daniel Maples, who worked as a salesman at Ted Todd Insurance. A short clip of the encounter was shared Monday on Twitter by Florida-based filmmaker Billy Corben, who said it occurred on June 27. The video has garnered at least 11 million views as of Wednesday.
Maples appears in the video aggressively screaming at the person who is filming him while another voice coaxes him repeatedly, saying "Dan."
The insurance firm released a statement on Tuesday that "the behavior in the video is in direct conflict with our company values and their employment has been terminated."

Corben, who frequently shares videos of outrageous encounters on Twitter with the hashtag #BecauseFlorida, added a description and additional details to the Costco tirade.

"Florida man at Fort Myers Costco in 'Running the World Since 1776' shirt flips out on elderly woman who asked him to wear a mask and man who defended her," wrote Corben.

At the beginning of the video, a voice can be heard saying "I am standing six feet away from you." Maples then said that the person was harassing him and his family, screaming that he felt threatened.

Maples then approaches the camera, saying: "Back off! Threaten me again. Back the f*ck up. Put your f*cking phone down." Another person who doesn't appear in the frame repeatedly calls him "Dan."
In another tweet, Corben wrote that a "customer who was targeted" said Costco "escorted [Maples] out and made me wait inside and monitored him until he left and then they [sent] someone with me to the care to make sure I'm okay."
Costco has required members and employees to wear face coverings since May, according to a note from its president and CEO Craig Jelinek.
The Fort Myers News-Press reported that Maples' now-deleted biography said he worked at the firm since 2016 and "is currently the highest-producing sales agent in the company… Likes: Hot yoga, traveling, cooking and mentoring others." (A LinkedIn page appears in search results for Maples identified him as a senior insurance agency, though the page has also been removed.) Insurance firm CEO Charley Todd also echoed the company's statement and wrote on Twitter, "Wear a mask. Be love."
In Florida and other Sun Belt states including Arizona and South Carolina, coronavirus cases have been spiking in recent weeks. As of Wednesday, nearly 214,000 COVID-19 cases have been confirmed in Florida, according to the Johns Hopkins University tracker.