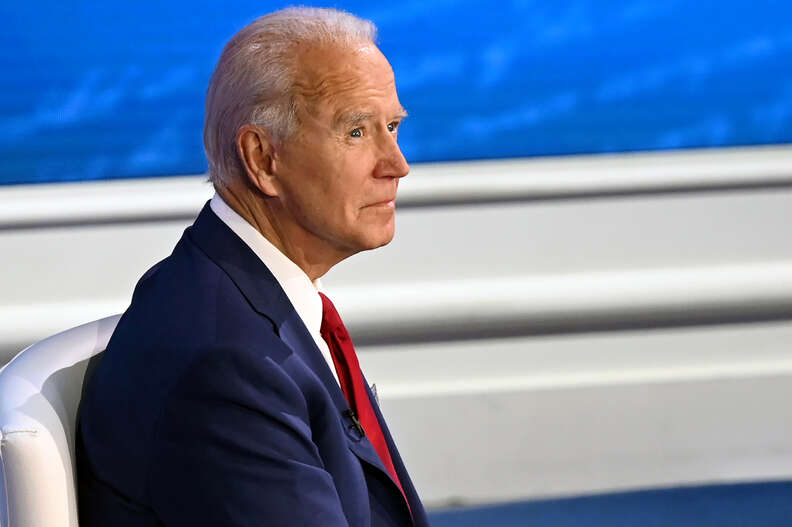 Joe Biden has pledged to reverse executive orders enacted by the Trump administration that discriminate against transgender people.
On Thursday during Biden's ABC town hall, a woman told the former vice president that she was the mother of two daughters and one of them is transgender. The mother said that Trump has "attacked the rights of transgender people" by banning them from serving in the military and "weakening non-discrimination practices."
"How will you reverse this dangerous and discriminatory agenda and ensure that the lives and rights of LGBTQ people are protected under U.S. law?" the woman asked.
"I will flat out just change the law, eliminate those executive orders," Biden responded. "There should be zero discrimination. And what's happening is too many transgender women of color are being murdered."
He continued: "I promise you, there is no reason to suggest that there should be any right denied your daughter… that your other daughter has the right to be and do."
Since President Trump took office in 2017, his administration has rolled back several anti-discriminatory protections for LGBTQ+ people, including rules meant to prevent discrimination from insurance companies, healthcare services, homeless shelters, and many others.
Biden has evolved his stance on LGBTQ+ rights over the course of his 40-year career in public service, including when he famously came out in support of marriage equality in 2012—when President Obama hadn't even done that publicly.
"His response [on NBC's Meet The Press], which aides said was not calculated or planned, blindsided the White House and Mr. Obama, who had not yet staked out that position," The New York Times reported. LGBTQ+ activist Emily Hecht-McGowan, who worked for the Biden Foundation at one point, called it a "watershed moment for the movement" and said it was a "tipping point." Marriage equality was legalized in all 50 states by the Supreme Court in 2015, during Obama's second term.
Biden has also evolved on criminal justice, calling the 1994 crime bill a "mistake"

During the town hall, Biden also expressed regret for supporting a crime bill in 1994 that has been criticized for disproportionately affecting people of color.
Both presidential candidates had separate town halls on Thursday night instead of the previously scheduled second presidential debate, as Trump refused to participate virtually. NBC News anchor Savannah Guthrie pressed Trump on his amplification of conspiracy theory groups, his COVID-19 response, and his own diagnosis with the virus.