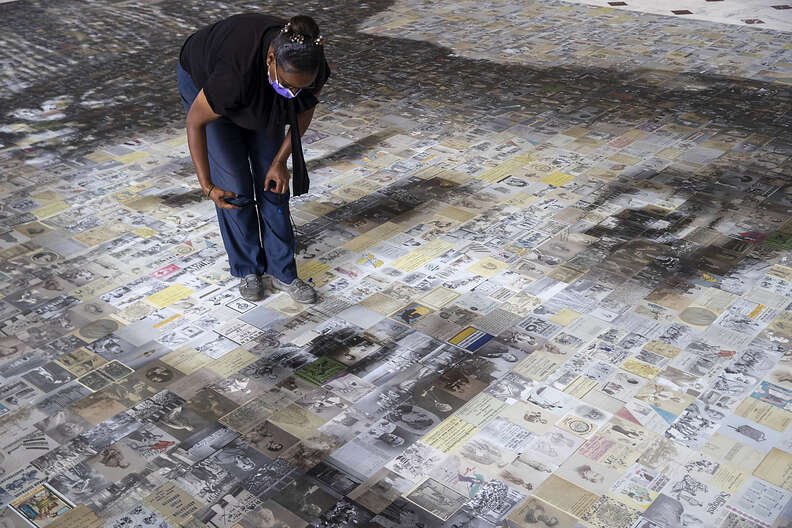 A huge mosaic of civil rights icon Ida B. Wells is made up of photos of other women activists as part of "Our Story: Portraits of Change."

| Getty Images
A huge mosaic of civil rights icon Ida B. Wells is made up of photos of other women activists as part of "Our Story: Portraits of Change."

| Getty Images
Prolific suffragist, abolitionist, and civil rights leader Ida B. Wells is being honored with a massive artwork installation to celebrate the 100-year anniversary of the 19th Amendment.
The 1,000-square-foot mosaic is on display from August 24 to 28 in Union Station in Washington D.C. The artwork, titled "Our Story: Portraits of Change," depicts Wells' image through "thousands of historical photos of suffragists." The Women's Suffrage Centennial Commission (WSCC) is sponsoring the art piece designed by visual artist Helen Marshall as part of National Women's Suffrage Month.
"Ida B. Wells is the perfect example of someone who would settle for nothing less than full justice and equality," Anna Laymon, WSCC Executive Director, said in a statement. "The Women's Suffrage Centennial Commission is proud to honor her legacy and celebrate the thousands of women who fought for the right to vote with this mosaic in Union Station."
Union Station has significance to the women's suffrage movement — protesters boarded a train there for the 1919 "Prison Special" tour. The women who were part of the "Prison Special" had all been arrested and put in jail for picketing the White House.
While the 19th Amendment was passed in 1920 and constitutionally gave women the right to vote, Black women (and men) still faced hurdles imposed by state and local laws when trying to cast their ballots. Many states enacted laws to suppress Black voters that created barriers including literacy tests and grandfather clauses. Many Black Americans faced threats of violence and racism if they tried to register to vote. It wasn't until the Voting Rights Act of 1965 was signed into law that cleared a pathway toward more equitable voting, though voter suppression still remains a problem today.
Wells was a significant figure in both the civil rights and suffrage movements. She worked as an investigative journalist and published critical pieces on racism and lynching. She was posthumously awarded a Pulitzer Prize for "her outstanding and courageous reporting on the horrific and vicious violence against African Americans during the era of lynching."
Her writing career was fueled by an incident on a train when a conductor tried to make Wells move from the first-class car to the segregated car. When Wells refused, she was kicked off the train. After suing the train company and winning in local court, Wells won $500—but a Supreme Court later overturned the ruling. She began writing columns about her lawsuit and after that, started reporting on lynchings despite the risk to her life she faced while doing the job.
During the suffrage movement, Wells faced racism from white women activists. Most notably, she refused to march in the back with other Black women during a 1913 Women's Suffrage Parade and instead joined the other white marchers.
The mosaic of Wells is also viewable online, where viewers can zoom in on the individual photos of women to learn more about their involvement in the suffrage movement. Other notable Black activists included in the mosaic are Harriet Tubman, educator Mary McLeod Bethune, abolitionist and poet Frances Ellen Watkins Harper, and educator and religious leader Nannie Helen Burroughs.