As the creator of seminal works like "Monster's Ball" and "Empire," Oscar-winning writer and director Lee Daniels has given new meaning to representation in Hollywood and has shaped the world of entertainment and culture.
Yet, behind the scenes, Daniels is working to pave a better future for younger generations, and his perspectives of 2022, accordingly, appear to encapsulate the same meaningful momentum that has fueled his work from the start.
Most recently, Daniels has added another Academy-award-nominated film to his oeuvre, "The United States vs. Billie Holiday," which explores one of the most prolific, culture-defining singers in the history of music, whose voice and civil activism has reverberated for generations.
Outside of his many accolades and awards, Daniels has committed himself to inspiring and mentoring others, sharing his talents and ambitions with the next generation of leaders, thinkers, and creators.
Over the past few years, Daniels has served as board member of the Ghetto Film School, a non-profit organization which helps educate, develop, and celebrate the curiosities and imaginations of future storytellers by giving them the requisite tools for building their network and creating films.
Now, with the fresh arrival of 2022, Daniels is ramping up for another purposeful and impactful year. NowThis spoke exclusively with Daniels about how his past experiences continue to percolate, informing his work and shaping stories like "The United States vs. Billie Holiday," and the ways in which he hopes to guide Gen Z filmmakers toward realizing their potential — and their dreams.
How has your experience creating films that both reflect and inform culture shaped your approach to more recent films like "The United States vs. Billie Holiday," which reached the masses?
I think the relationship between art and society is symbiotic. There's a real ebb and flow between the two, where one is always challenging the other. I think we as a society tend to have a short memory. We try to remember the good and forget the bad. Or the "Powers That Be" try to rewrite history in a way that favors them.
But art, art has a responsibility to one thing and one thing only – the truth. If what you've created isn't rooted in the truth, then it's not art. It's a distraction. And I don't have time for distractions. I'm here to push the envelope. To make you question. But in order to do that, I need to listen to the streets. To process what they're saying. And then allow that to inspire me — in one direction or another.
In the case of Billie Holiday, I was inspired by her story of courage and defiance in the face of systematic oppression – that is still alive and well today. You take a movement like Black Lives Matter and the role it's played in reshaping the narrative around who we are as Black people over the course of the last seven or eight years, and you can trace its origins back to Billie Holiday. But she didn't have the swell of support that we have today. She was one woman, fighting the good fight, more or less on her own. That's inspiring.
You know, change doesn't happen overnight, it's a series of events that build upon each other and if we're going to celebrate the strides we've made recently, then we need to honor the pioneers. And Billie Holiday is that, to me. A pioneer of the movement. And I approached her story with the humility and grace that I would approach anyone whose sacrifices have enabled me to be where I am today.
How did you approach capturing Billie Holiday's essence in such a poignant way?

Art is rooted in truth. And in order to tap into Billie's truth, I had to become a student of hers. And not just her music. I had to study her life. Her family. The world around her. Everything. I studied Billie non-stop for over two years and when it officially became go time, I dropped everything. I left the country and spent nine weeks in Mexico to solely focus and download in nothing but Billie. I needed to channel her through me.
But I knew that I was only one piece of the puzzle –- finding my Billie was the second piece. And that process was arduous. In the end, I think we really hit the jackpot with Andra Day. But the process of finding that diamond in the rough, well, it was tough.
I knew I needed to find someone that I could trust, but also someone that would trust me in return. And then that person needed to embody the spirit of Billie. And if she could sing too, well then, all the better. I mean, we were looking for a needle in a haystack. Hell, we were looking for a needle in a whole damn field. But we found it. Or should I say Billie guided us to it.
How did growing up in Philadelphia impact your creative process and approach to making content?

I know it can seem like I'm biased by saying this, but I truly believe some of the best music, literature, dancers, and art comes from Philadelphia. Maybe it's in the water.
It's funny as I don't make a conscious effort during the creative process as I'm creating what's in me on a spiritual level. I know I'm in a lane of my own and no one has lived the life I've lived or sees the world exactly as I see it. Because of that, my work will always have some nuance from the city that raised me as I'm still a just a kid from the streets. There would be no "Lee Daniels" without Philadelphia.
"Concrete Cowboy" illuminated a real issue that Philadelphia faces: gentrification. When making a film with such heavy social implications, what is your creative process like?
I'm from Philly and I've seen parts of the city change so much over the past several years, so it was really important for us to shine light on the damaging effects of gentrification on Philly's Black communities in telling this story. From a creative standpoint, I think the best way to grapple with any social issue in cinema is to get on the ground and talk to people.
It's not possible to capture any truth without this sort of understanding and communication. I think it's also crucial to include these community members in the production process itself — many of the cast members in the film are actual riders and members of the Fletcher Street community.
I'm so proud of our Concrete Cowboy team for the awareness that they've brought to this incredible community and to the Philadelphia Urban Riding Academy, a non-profit started by the riders which aims to preserve their rich history and to find a permanent home for the Fletcher Street Stables.
How do you feel about the current state of the film industry and beyond, specifically when it comes to representation for Black creators, both on-screen and behind the scenes?

There is so much work to be done but it begins with the decision makers at studios and networks. 2022 needs to be the year that we see companies hire and promote Black executives at the highest level. Executives of color are so essential.

A great portion of NowThis audience are young media consumers. Is there any advice that you would give to Gen Z readers who are looking to break into the film industry, but are having trouble finding access, or don't know where to start?

They have to follow their heart and never go against their spirit. That core foundation of belief and listening to your spirit has guided me throughout my life and led me to where I'm at today. Tapping into that will never lead you astray.
In terms of where to start, start where you're at – literally. Looking back on my personal journey, one of my earliest experiences was reading Edward Albee's "Who's Afraid of Virginia Woolf?" at eight years old and gathering the neighborhood kids on my steps and directing them to perform it. Of course, I didn't know at the time that what I was doing was directing but I did know that that fulfilled me. Which eventually led me to wanting to do it more, which led to an opportunity to direct a church play, which led to local productions, which led to learning how to read scripts, which led to writing scripts, which ultimately led to Hollywood. But it all starts with doing something in your current space now that feels right. Have a vision and just take the first step, no matter how small it may seem to you.
When audiences leave the theaters after watching a film like "The United States vs. Billie Holiday," what sort of impact would you like your films to have on their understanding of today's society and ever-shifting culture — what do you hope sticks with them?
I'm a storyteller. I can't control what sticks with audiences, but my hope is that my work makes them think. To see the world from a different lens if only for two hours. Where most people get uncomfortable with the truth, I tend to lean in and be prepared to be ridiculed by some.
As in most cases, critics will never see the world from my Black, gay lens. I couldn't believe that it took me until I was in my 50s to first hear of Billie Holiday's battle with the government – just for refusing to remain silent. She was horribly misunderstood by the masses. Once I knew the actual truth, it remained in my spirit and I knew I had to tell that story.
My work is about exploring the human condition and not with judgment but with authenticity. With Billie, I've had people tell me they went into the film believing she was just another tragic singer who died from drugs and wasted her life. But after allowing themselves to see her story through my lens, with no judgment, they left the film championing her as a civil rights icon and powerful badass. I didn't create that narrative, I just told her true story with no judgment, which made them think.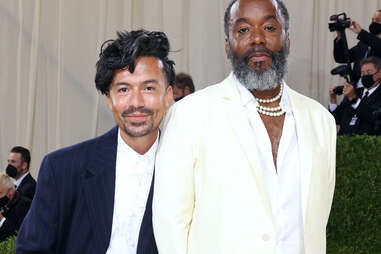 As an established director, would you ever consider branching off into other creative spheres within the next five years?
When it's time to put me out to pasture, maybe I'll end up being a teacher somewhere.
Meanwhile, I enjoy discovering new writers/directors and mentoring them, which is a form of teaching for me. My deal at Disney has set me up to be able to help watch them flourish with their own voices and stories.
What are some new projects to keep an eye out for in this new year?
In terms of upcoming projects, I'm working on one about Sylvester James, the legendary disco diva whose life was cut short by the AIDS Epidemic. And I've got a gay military project that really has my attention.
Aside from that, I've got a record deal with Warner Records. We were just nominated for a Grammy for our first release , the soundtrack to Billie Holiday. I'm really excited about that new endeavor.
Also, I'm working on a horror film that's based on a true story. It's Precious meets The Exorcist. I want to do horror but not cheap scares. Real horror. I haven't been terrified since the original The Exorcist and that is my intent. I want people running out of theaters as if their hair was on fire.
What social implications would you like a film like "The United States vs. Billie Holiday," or the new Sammy Davis Jr. mini-series that you are developing, to have on the new generation of young people who might not be too well-versed or familiar with the history of such legends?
As I get older, my appreciation for the hard work that people like Billie Holiday and Sammy Davis Jr. played in laying the groundwork, enabling me to have the career I have, has grown exponentially. I've spoken on Billie, so I'm gonna focus on Sammy here.
Sammy didn't just open doors, he knocked down entire walls. He was the first Black Superstar, paving the way for Tina and Michael and Jay and Beyoncé.
At the risk of sounding like an old man, I think it's important to remember where we come from and to appreciate our ancestors. I hope that's what my historical pieces do. Pay homage to the trailblazers who make it possible for us to be working in this business, who pushed the boulder up the hill. Who made it possible for black stories to be told, and to be told right.