Instagram Bans Filters That Resemble Cosmetic Surgery
These filters, which can make it look as if the user has larger lips, higher cheekbones, or a smaller nose, are being nixed in the name of "well-being."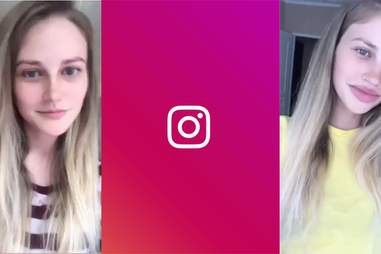 Instagram announced its decision to remove all augmented reality filters that mimic the appearance of having cosmetic surgery.
"We're re-evaluating our policies – we want AR effects to be a positive experience for people," Instagram said in a statement to NowThis.
Instagram said it plans on banning all filters that give plastic surgery-like effects. These often include enlarged lips, higher cheekbones, or a smaller nose.
In August, Instagram started allowing users to create their own effects and publish custom filters. One popular filter was called "FixMe," which gave the illusion of plastic surgery marks and bruising, with written words that say "help," and "fix me."
The company that builds the filters, Spark AR, said in a Facebook post that they want "effects to be a positive experience and are re-evaluating our existing policies as they relate to well-being." 
Spark AR and Instagram haven't set a date for the rollout of the new policy, but say they will be evaluating custom filters that could potentially resemble cosmetic surgery before allowing them to go live on the platform.