Instagram's New Feature Reels Looks Just Like TikTok
TikTok, which Trump has said will be banned nationally if it's not bought soon by another company, said it "welcomes competition"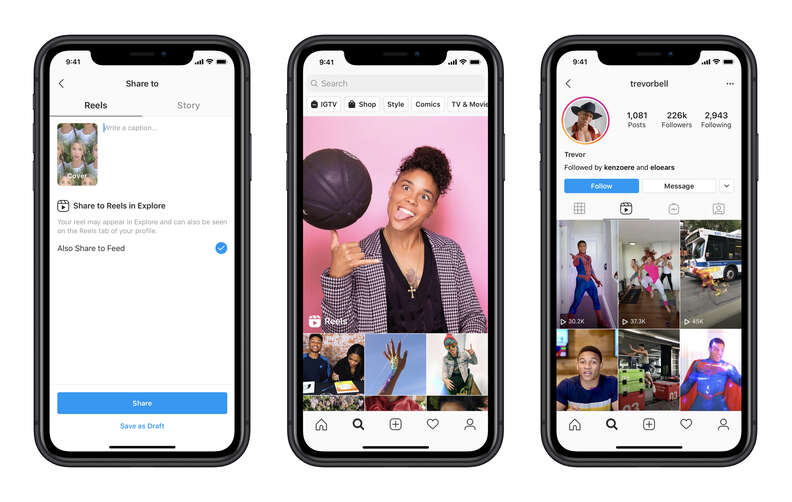 Instagram
Instagram
As the President's threats to ban TikTok in the U.S. grow more serious, the wildly popular short-form video app will have to contend with a new direct competitor: Instagram's Reels.
Reels, which was released Wednesday in 50+ countries, including the United States, lets users stitch together multiple clips into 15-second-long videos set to music. All done within the camera in the Instagram app, users can manipulate the speed of their videos and also apply AR filters and visual effects.
Unlike Lasso, a short-form video app that Facebook's New Product Experimentation group launched in 2018, Reels exists exclusively within Instagram. Facebook shuttered Lasso, which failed to catch on, in June 2020.
Robby Stein, Instagram's director of product, said the rollout of Reels represents a "a really big evolution" for the platform.
"Instagram's evolved to really include catching up with interests and also just being a place for entertaining and really inspiring video, which I think are all things that the world needs right now," Stein told NowThis ahead of the feature's launch.
If a user's account is private, they can share Reels to their Feed or Story. If a user's account is public, they can share their video to Feed, Stories, or Explore, where there'll be a new space dedicated to the short-form videos. Some Reels will be handpicked by a team of human curators and featured prominently in Explore.
"We have local editors and curators that are really familiar with trends in media in different regions, and they'll pick just a small subset of content to help the channel," Stein said.
In addition to featured Reels, the Explore page will surface videos that are trending and videos likely to match the user's interests & previous activity, kind of like how TikTok's "For You Page" works.
Reels was first introduced in Brazil as a test feature in November 2019 and then expanded to Germany and France. Less than a week after TikTok was banned in India, Instagram launched a Reels test there, as well.
Stein says the new feature came about after Instagram noticed a higher volume of short-form video on the platform's products.
"On Feed, on the video posted there, there's about 45% of them that are 15 seconds or less," Stein said. "We saw this explosion of usage on our platform and also saw the great work happening in the market by other enterprising startups and companies, one of them being TikTok, which clearly helped popularize this format, and we felt like we could do something here that was really unique to Instagram."
In a blogpost on July 29, the same day as the Big Tech antitrust hearing in Congress, TikTok's CEO, Kevin Mayer, called Reels a "copycat product," but said the company "welcomes competition."
"We think fair competition makes all of us better," Mayer wrote. "To those who wish to launch competitive products, we say bring it on."
The Wall Street Journal also reported that Instagram has approached TikTok creators and financially incentivized them to move over to Reels.
Stein said that Reels differentiates itself from TikTok because of Instagram's "unique community" and because it'll benefit from IG-specific features.
"I think I would just say that no two products are exactly the same," Stein said. "The fact that this format could be reshared with Stories and have your best friends that are already on Instagram talk about it on DM, and be able to then be exposed on Explore, which is an amazing surface that over half the accounts use each month—these things alone make certain parts of Reels really special."
Four years ago, Instagram faced criticism over its rollout of Stories, which many called a clone of Snapchat Stories. Today, Instagram Stories is used by more people than Snapchat.
The global rollout of Reels comes at a time when TikTok's fate in the U.S. is uncertain. Microsoft has expressed interest in acquiring the app's U.S. service, in addition to New Zealand, Australia, and Canada's, but it might only have until September 15 to do so, at which point President Trump has threatened to ban it over data privacy concerns.
Reels' release also comes amid increasing scrutiny of Instagram's parent company, Facebook, over its scale and how it moderates false and objectionable content.
Stein said that misinformation has not been an issue on Reels in the test countries.
"I haven't seen anything like that in our test countries, but it's been a fairly limited test, and I'm sure there's a lot we're going to learn going forward," he said. "Anything that scales with volume is going to have more things that could be flagged. As [Reels is] used more, we need to make sure that we fact check content needs to be fact checked, we take down content that needs to be taken down, and that'll be important in the coming weeks."
TikTok also faces competition from other short-form video apps, including Zynn and Triller. Additionally, Snapchat announced it's adding a music feature similar to TikTok's, and YouTube is reportedly adding a short video feature to its app before the end of the year.