Irish Repay A 173-Year-Old Debt To Native Community Hard Hit By COVID-19
"173 years later to today, the favor is returned through generous donations from the Irish people to the Navajo Nation during our time of crisis."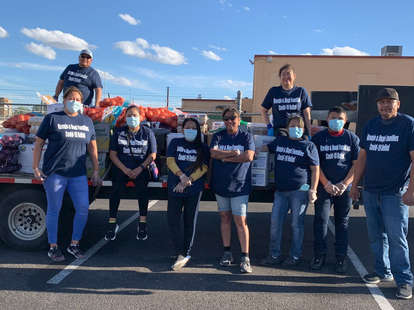 Vanessa Tully / A group of volunteers for the relief fund in Phoenix, AZ, stand in front of their latest purchases of groceries, over the counter remedies, basic care items and toilet paper.
Irish contributors have been making donations to a crowdfunding campaign for a Native community in the U.S. that's been hard hit by COVID-19. The gestures were made to return a debt to the Indigenous people, according to a fundraising organizer.
The Navajo & Hopi Families COVID-19 Relief Fund has raised more than $1.7 million as of May 5 to help provide food and supplies for elders in the Nation, which touches Utah, New Mexico, and Arizona. Former Navajo Attorney General Ethel Branch launched the campaign in mid-March. A post on May 3 by organizer Vanessa Tulley said that Irish people had made many of the campaign's recent contributions.
In 1847, Native Americans from the Choctaw Nation provided $170 (an equivalent of $5,000 today) of relief aid to Ireland, during a period of mass starvation and disease in the country called The Great Famine, Tulley wrote. The painful period for Irish people came soon after the Trail of Tears, a relocation of about 60,000 Native Americans in the United States that led thousands to die from hunger, disease, and exhaustion during forced marches.
"The death of many people on the Trail of Tears sparked empathy for the Irish people in their time of need. Thus, the Choctaw extended $170 of relief aid," Tully's post reads. "173 years later to today, the favor is returned through generous donations from the Irish people to the Navajo Nation during our time of crisis."
In messages on the crowdfunding page, donors have made references to the debt and expressed words of support.
Native communities in the U.S. have been disproportionately affected by the virus, which has infected over 1.1 million people around the country and killed over 69,000, according to the Johns Hopkins University tracker.
In New Mexico, Native Americans make up around 10% of the population, but account for about 29% of the state's cases. The Navajo Nation, which includes over 170,000 people across three states, has also reported 2,373 positive coronavirus cases. According to a HuffPost report, the Nation has more confirmed cases of COVID-19 per capita than almost every U.S. state.
"The heartache is real," Tulley wrote. "We have lost so many of our sacred Navajo elders and youth to COVID-19."