Is Coronavirus Really Affecting Corona Sales?
Let's take a closer look at the facts.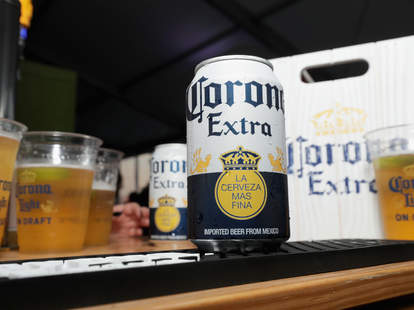 The coronavirus has been detected in more than 40 countries, caused economic and travel issues, and as of Friday, was linked to a decline in sales of a popular beer. But what's the truth?
Corona, the popular Mexican beer brand, has the unfortunate circumstance of sharing a name with the deadly novel coronavirus that has infected tens of thousands of people worldwide. A recent survey released by 5W Public Relations claimed that "38% of Americans wouldn't buy Corona right now," without specifically citing a relation to the coronavirus.
Over the span of two days, 5WPR surveyed 737 legal American beer drinkers and found that among those who usually drink Corona, 4% said they would stop, and 14% said they wouldn't order Corona in a public venue. About 16% of those surveyed were confused about whether Corona beer is linked to the virus.
In a YouGov report, the "Buzz Score," which measures if Americans have heard something positive or negative about something, said Corona Extra's score has been dropping. The report also noted that Corona, a typically summery beer, usually sees seasonal fluctuation in sales during colder months, but said that the intent to purchase appeared to be at its lowest in two years.
Meanwhile, beer companies have already faced competition from the recent surge in hard seltzers. Sales of the popular seltzer brand White Claw were up 250% in 2019. Corona also announced this month it was getting into the hard seltzer business with a new ad, which people criticized as "in poor taste."
Still, the analytics platform SEM Rush saw a trend in search terms like "corona beer virus," and "beer coronavirus" over the last few months, but those searches have since declined. Constellation Brands, the parent company of Corona, has said customers "understand there is no link between the virus and our business."