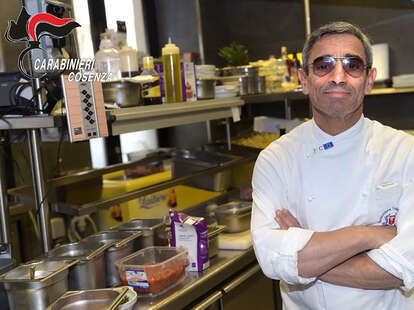 Edgardo Greco, a 63-year-old Mafia hitman who had been on the lam for 16 years, was able to keep a low profile in plain sight by working as a chef at a pizzeria in southeast France. But his order's up: Authorities nabbed him on February 2 in the city of Saint-Étienne.
Greco was convicted of killing 2 people with a metal bar in 1991 in southern Italy; he was sentenced to life in prison. French, Italian, and Interpol authorities coordinated to take Greco into custody. He had previously slipped out of police custody, in 2016.
Greco was believed to be linked to both Italian mafia wars in the early 1990s, as well as the notorious 'Ndranghetha crime group.
"The capture of Edgardo Greco brings to justice one of the worst Italian criminals and demonstrates, for the umpteenth time, the capabilities and commitment of our police forces, which on this occasion have operated in collaboration with the French authorities," Matteo Piantedosi, Italy's interior minister, said in a statement.