Jeff Bezos Is Going to Space and Bringing His Brother With Him
If you want to fly with the Amazon founder, start scrounging up some cash: A charity auction to choose the third passenger is set to end in 5 days.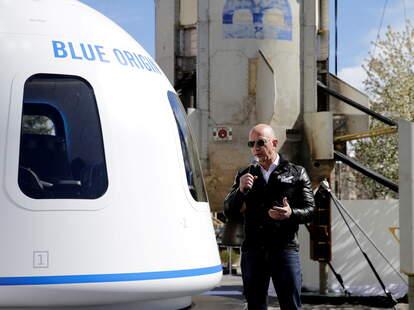 Jeff Bezos is going to the edge of space on a rocket built by his company, Blue Origin.
The Amazon CEO made the announcement in a video on Monday and said that it's always been a dream of his to travel to space.
"To see the Earth from space, it changes you," Bezos said. "It changes your relationship with this planet."
Bezos also announced that his brother, Mark, will join him on July 20 — the date set for the first passenger flight on Blue Origin's rocket, New Shepard.
"What a remarkable opportunity not only to have this adventure but to be able to do it with my best friend," Mark Bezos says in the video.
New Shepard can hold up to six passengers. One of the passengers will be the winner of a charity auction that ends in five days. The highest bid as of Monday morning is $2.8 million.
The Bezos brothers, auction winner, and any other passengers will fly just past the border of the Earth's atmosphere and space, a point 62 miles above Earth's surface that's referred to as the Kármán line. The flight will last 11 minutes in total.