Jennifer Siebel Newsom, Filmmaker & Wife of CA Gov. Gavin Newsom, Testifies Against Harvey Weinstein
Content warning: discussions of sexual assault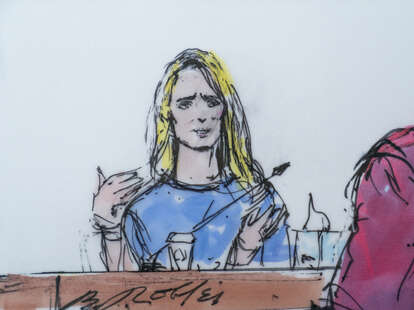 Content warning: discussions of sexual assault
Filmmaker Jennifer Siebel Newsom continued her testimony today in the Harvey Weinstein trial in LA, speaking out against the horrors she allegedly endured in 2005 at the hands of the disgraced film producer and convicted sex offender. Siebel Newsom's testimony began yesterday and carried over into Tuesday, with continued cross-examination by Weinstein's legal team.
Siebel Newsom gave an emotional, tear-filled recount of the assault that she reportedly endured by Weinstein in a Toronto hotel room. Witnesses at the trial yesterday reported that Siebel Newsom was visibly shaken while on the stand, at one point testifying, "He knows this is not normal! He knows this is not consent!"
Per Siebel Newsom's testimony, Weinstein had originally introduced himself to her at a bar while both were attending the 2005 Toronto Film Festival, before inviting her to the hotel room where the alleged assault occurred.
"I felt like I had to go meet with him … maybe he'll give me good advice," Siebel Newsom testified of her initial impressions of Weinstein at the time. "I thought that there was a genuine interest in talking to me about my work."
Upon cross-exam, Weinstein's attorney Mark Werksman attempted to paint Siebel Newsom as having slept with the film producer consensually in order to advance her career. He even resorted to explicitly sexist language in the courtroom at one point, saying Siebel Newsom "made herself a prominent victim in the #MeToo movement … otherwise she'd be just another bimbo who slept with Harvey Weinstein to get ahead in Hollywood."Court reports also said that Weinstein's defense frequently brought up her husband, recently re-elected CA Gov. Gavin Newsom, who accepted political donations from Weinstein in the past. Siebel Newsom acknowledged her husband had taken money from Weinstein but testified that he returned it in 2017 after learning of his wife's assault.
Siebel Newsom, who is identified as Jane Doe #4 in the criminal proceedings, is 1 of 4 women to have taken the stand against Weinstein in this trial. Today, a judge dropped 4 of the 11 charges Weinstein faces that were related to a fifth woman, Jane Doe #5, as that unnamed accuser has not been called to testify in the prosecution's case
Weinstein is currently serving a 23-year sentence for a third-degree rape conviction in New York. He pleaded not guilty to the 11 counts of rape and sexual assault in California he was initially charged with. If convicted again, he faces up to 135 years to life.