Joe Biden Chooses Kamala Harris As Vice Presidential Running Mate
After months of speculation, the former Vice President has chosen California Sen. Kamala Harris as his running mate for the 2020 election.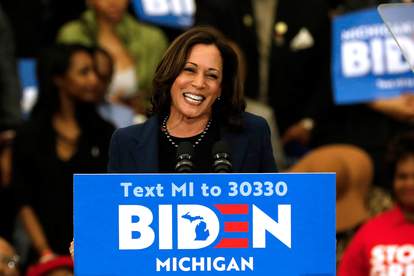 Democratic presidential nominee Joe Biden has chosen California Sen. Kamala Harris as his vice presidential running mate.
The former vice president made the announcement Tuesday, calling Harris "one of the country's finest public servants."
 
Back when Kamala was Attorney General, she worked closely with Beau. I watched as they took on the big banks, lifted up working people, and protected women and kids from abuse. I was proud then, and I'm proud now to have her as my partner in this campaign.

— Joe Biden (@JoeBiden) August 11, 2020
Harris is the first Black woman to be selected as VP for a major party ticket, and the first South Asian American to be chosen for the role as well. Harris is the daughter of two immigrants: her father is Jamaican and her late mother was Indian. She made history in 2017 when she was the first Black woman to represent California in the U.S. Senate. Biden and Harris will officially accept their nominations next week at the Democratic National Convention. 
Harris ran against Biden in the Democratic race for president until December 2019 when she officially dropped out. She endorsed Biden shortly after.
Former President Obama released a statement shortly after Biden's announcement saying he "nailed this decision."
Officials working with Biden confirmed to multiple outlets earlier this week that he had made his final decision on his running mate. 
Several women leaders were contenders for the coveted slot, including Massachusetts Sen. Elizabeth Warren, California Rep. Karen Bass, and former Obama national security adviser Susan Rice.
In June, Biden vowed to choose a woman as his running mate and has emphasized how important chemistry is between him and his VP—much like his own relationship with President Obama. Biden has also said he is looking for someone who has the ability to take over as president should he have to leave office. 
The last time a woman was selected as a vice presidential candidate was against Biden himself; the late Republican Sen. John McCain selected Alaska Governor Sarah Palin as his running mate for the 2008 election against Obama and Biden. While they were not the victors of the election, Palin became a pivotal part of the election and increased poll numbers among white women voters. 
Biden has been endorsed by several prominent Democratic leaders including President Obama, Sen. Bernie Sanders, Sen. Warren, and others.