Joe Biden Defeats Donald Trump In 2020 Presidential Election
Joe Biden has become the next president-elect of the United States, and Kamala Harris the first woman vice president-elect, defeating an incumbent president set on stopping the vote count and poisoning the electorate with bold-faced lies.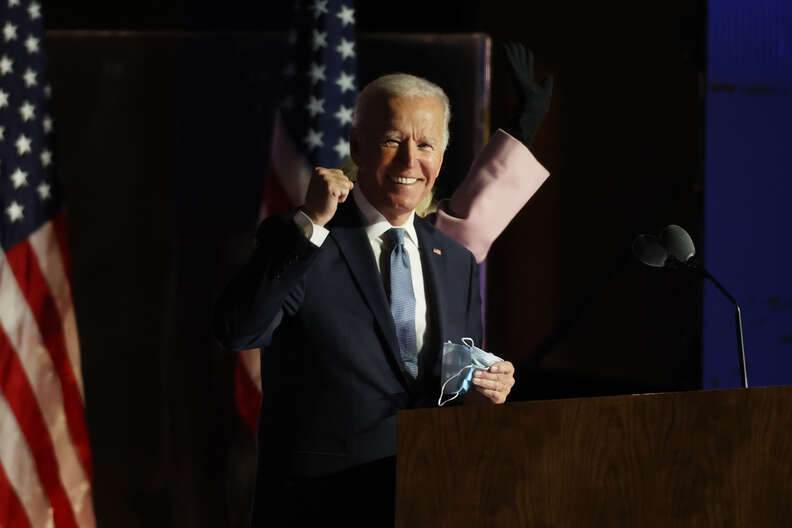 Democratic presidential candidate and former vice president Joe Biden, 77, has been declared the winner of the 2020 U.S. election, defeating impeached incumbent President Donald Trump, 74, in one of the most contentious elections in American history. Biden has surpassed former President Barack Obama's 2008 popular vote total, breaking the record for the most votes ever received by a U.S. presidential candidate in American history — the first candidate to surpass 70 million.
With a major win officially flipping the state of Pennsylvania Saturday morning, Biden has now exceeded the threshold of the 270 electoral college votes needed to secure the presidency. The former vice president gave remarks in Delaware on Friday evening where he once again called for every vote to be counted, and said, "the numbers tell us it's clear...we're going to win."
By Saturday morning, that was true. Biden has 279 electoral votes with the Pennsylvania win, and was declared the winner in Nevada shortly after. He is currently ahead in Georgia and Arizona, who are still tabulating final counts.
President Trump was at his golf club in Virginia when Biden was declared the winner.
In his first statement as president-elect, Biden said, "I am honored and humbled by the trust the American people have placed in me and in Vice President-elect Harris. In the face of unprecedented obstacles, a record number of Americans voted. Proving once again, that democracy beats deep in the heart of America. With the campaign over, it's time to put the anger and the harsh rhetoric behind us and come together as a nation. It's time for America to unite. And to heal. We are the United States of America. And there's nothing we can't do, if we do it together."
Vice president-elect Harris—who is now the first woman, first Black American and first Indian American to serve in this role—tweeted, "This election is about so much more than Joe Biden or me. It's about the soul of America and our willingness to fight for it. We have a lot of work ahead of us. Let's get started."
The campaign says Biden plans to address the nation around 8 pm ET Saturday night from Wilmington, Delaware, along with vice president-elect Harris.
Meanwhile, Trump spent the past few days baselessly contesting the election on false claims and trying to stop the vote count in states where he is losing — going so far as to file lawsuits to do that in multiple key swing states, though judges had already begun striking them down.
What Biden's win represents
Biden's win comes as a rebuke to a chaotic almost-four years of the Trump presidency, during which the country became increasingly polarized; saw record unemployment; experienced a rollback in human and civil rights, particularly for Black and brown people; and suffered a once-in-a-century pandemic that has killed more than 232,000 Americans — a higher death toll than that of any other country.
Biden often said this election was a "battle for the soul of our nation" and campaigned on the promise of returning honor, decency, pro-democracy values, and competence to the White House.
His running mate, Sen. Kamala Harris (D-CA), 56, makes history as the first woman, first Black American, and first Indian American to be elected vice president. Biden makes history as the oldest person ever elected to the presidency as well as the first to call the state of Delaware home.
Their victory marks a major shift in American governance, which atrophied under Trump, a businessman with no previous experience serving in public office who frequently used the levers of government in the most powerful country in the world for his own personal gain.
Biden and Harris ran on the most progressive platform ever proposed by a major party's presidential ticket, with a focus on expanding health care access, fighting the climate crisis, building a caregiving and education workforce, and committing to comprehensive immigration and criminal justice reform.
Their agenda calls for a public option for the Affordable Care Act — Biden has recently called it "Bidencare," the next version of Obamacare. The president- and vice president-elect plan to quadruple federal assistance for low-income housing and triple federal funds for low-income K-12 schools. They've also committed to an aggressive plan to combat climate change, proposing a $2 trillion investment in green jobs and clean-energy infrastructure to address environmental injustice and make the U.S. carbon neutral by 2050.
Trump and the Republican party failed in their attempts to repeal and replace Obamacare, and Trump never proposed a replacement health care plan during his years in office.
Trump was the first impeached incumbent to be nominated for re-election
Trump is the third president in U.S. history to be impeached by Congress, following Andrew Johnson in 1868 and Bill Clinton in 1998. He is the only president to have been nominated for re-election by his party after impeachment.
The hearings, which took place in the House of Representatives in December 2019, focused on abuse of power and obstruction of Congress after a whistleblower reported that the president had attempted to extort the President of Ukraine, withholding military aid in exchange for an attempt to fabricate dirt on Joe Biden and his son Hunter. Trump was acquitted by the GOP majority in the Senate in a trial without witnesses in February 2020.
Trump has been electorally defeated by the man who he viewed as such a threat that he was impeached for trying to fabricate dirt against him.
He also makes history for the worst job losses of any U.S. presidency and the highest number of documented false claims made while in office. As of the end of August, The Washington Post reported that he had made more than 22,000 false or misleading claims. Trump is the first president in U.S. history to never break 50% in his approval ratings, and he also set a record for the number of days spent golfing while president — and the number of close associates arrested while in office.
Biden's political record, career, and survival through family tragedy
Biden brings political experience back to Washington. The president-elect represented Delaware in the Senate for 35 years, first sworn in at the age of 30, before becoming Barack Obama's vice president in the 2008 election and serving in that role for two full terms, through 2016.
A few weeks after Biden was first elected to the Senate in November 1972, his wife Neilia and 1-year-old daughter Naomi were killed in a car accident in Delaware. Their two sons, Beau and Hunter, survived with injuries.
Biden met Jill Jacobs, a teacher, in 1975, and remarried in 1977. The two have a daughter, Ashley Biden. The former vice president has said that Jill helped heal his devastated family and took on his sons as her own. Beau, who was the attorney general of Delaware and an active member of the Army National Guard, died of brain cancer in 2015. The president-elect has said the death of his oldest son and desire to spend more time with his children and grandchildren is the major reason why he did not pursue the Democratic nomination in 2016.
Biden began Election Day 2020 with a visit to Beau's grave in Wilmington and a Catholic mass at their church in Delaware. He also traveled to campaign in his hometown of Scranton, Pennsylvania.
As a senator, one of Biden's landmark pieces of legislation was the 1994 Violence Against Women Act, which established a dedicated office in the Department of Justice and provided $1.6 billion for the investigation and prosecution of cases involving violent crimes against women. Biden has called it "the most significant legislation [he] crafted" during his time in the Senate.
In 1991, Biden played a key role in the Supreme Court confirmation hearing in which Anita Hill accused nominated justice Clarence Thomas of sexual harassment. Biden was chairman of the Senate Judiciary Committee at the time, and his and Congress' treatment of Hill accelerated a national conversation about sexual harassment in the workplace that lasts to this day. Biden has been criticized for how he handled Hill's allegations, and he called her last year before launching his presidential campaign to "express regret."
The former vice president faced much criticism during the 2020 campaign for another 1994 piece of legislation, the crime bill that he spearheaded and President Clinton championed. Criminal justice reform advocates often point to that bill as the acceleration of mass incarceration in the U.S., a problem that disproportionately affects Black people to this day. Biden said during the campaign that it was a "big mistake" to support the bill, and has pledged to reduce incarceration as president.
Earlier this year, Tara Reade, a former Senate aide who worked in Biden's office in 1993, accused the former vice president of sexual assault. She filed a report with Washington, D.C. police on April 9 about the incident, which she said took place in '93. Biden said the allegation "is not true," adding "I am saying unequivocally, it never, never happened."
He previously ran for the Democratic nomination for president in 1988 and 2008.
As it became evident that President Trump would appoint three Supreme Court justices to the bench during his first term, cementing a 6-3 conservative majority, Biden has been asked repeatedly on the campaign trail if he supports expanding the court.
While he has declined to give a yes or no answer, Biden said in a "60 Minutes" interview that, if elected, he will form a bipartisan commission to research court reform and make recommendations within 180 days. In addition to court expansion, other suggested reforms include term limits for Supreme Court justices, who currently have lifetime appointments.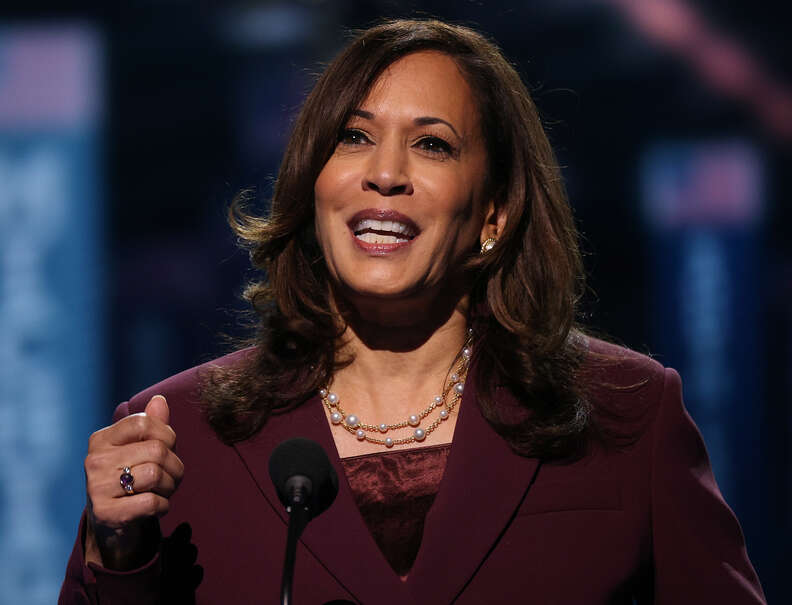 Kamala Harris makes history as first woman vice president in U.S.
Vice president-elect Harris has served as the junior senator from California since 2017. Prior to that, she served as Attorney General of California from 2011 to 2017 and San Francisco District Attorney before that. Harris was only the second Black woman and first South Asian American to be elected to the U.S. Senate.
The child of Jamaican and Indian immigrants, Harris has emphasized the importance of diversity, inclusivity, and representation in government.
As a former prosecutor, she was often a sharp questioner in the Senate, including during the confirmation hearings for Supreme Court Justice Brett Kavanaugh. She also made pointed criticism of Trump's handling of the COVID-19 crisis throughout the campaign. Before Biden named her as his running mate in August 2020, she mounted her own bid for the Democratic presidential nomination, but withdrew in December 2019, endorsing Biden a few months later.
Harris' husband, Douglas Emhoff, a lawyer, will become the first Second Gentleman of the United States. Dr. Jill Biden will serve as First Lady.
The 2020 election saw historic turnout, with more than 101 million Americans having cast their votes going into November 3. NBC News projected that the total numbers of votes cast would be at least 159.8 million.
Biden and Harris will be sworn into office on January 20, 2021.
Natalie Daher contributed to this report.