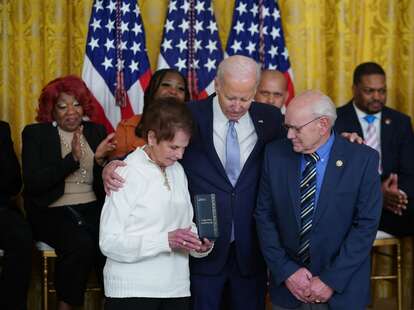 Credit: Photo by MANDEL NGAN/AFP via Getty Images
Credit: Photo by MANDEL NGAN/AFP via Getty Images
To mark 2 years since the attack on the U.S. Capitol on January 6, 2021, President Joe Biden honored 14 Americans who displayed heroism in defending democracy and the Capitol in the face of violence.
"All of [the insurrection] was fueled by lies about the 2020 election," Biden said during a ceremony in the East Room of the White House. "But on this day 2 years ago, our democracy held. 'We the People' — as our Constitution refers to us — 'We the people' did not flinch."
Biden bestowed Presidential Citizens Medals, one of the highest civilian awards in the U.S., to each of the 14 individuals during the ceremony. "History will remember your names," he said in his speech. "They'll remember your courage. They'll remember your bravery. They'll remember your extraordinary commitment to your fellow Americans."
Among those honored were Capitol Police officers who held off rioters and election officials who did not waver in their commitment to democracy amid former President Trump's attempts to overturn the election.
3 of the medals were given to law enforcement officers posthumously. One honor was bestowed upon Brian Sicknick, who suffered a stroke the day after the riot. The two other awards were given to Howard Liebengood and Jeffrey Smith, who both died by suicide after the insurrection.
Other officers who received medals included Harry Dunn, Caroline Edwards, Michael Fanone, Aquilino Gonell, Eugene Goodman, and Daniel Hodges.
Several local officials were also honored, including Russell "Rusty" Bowers, the former GOP Speaker of the Arizona House of Representatives; Jocelyn Benson, Michigan's secretary of state; Al Schmidt, the former Philadelphia city commissioner; and Georgia poll workers Shaye Moss and Ruby Freeman, who both withstood threats to their lives from Trump supporters following the 2020 election.
The estate of Officer Sicknick announced a lawsuit today against both Trump and 2 Jan 6 rioters for their alleged involvement in his death. "As Officer Sicknick and hundreds of others — including other police officers, elected officials, and rank-and-file workers at the Capitol — were put in mortal danger, and as the seat of American Democracy was desecrated by the insurgent mob, Defendant Trump watched the events unfold on live television from the safety of the White House," lawyers for Sicknick's estate and his partner Sandra Garza wrote in the complaint. "The horrific events of January 6, 2021, including Officer Sicknick's tragic, wrongful death, were a direct and foreseeable consequence of the Defendants' unlawful actions." They're seeking $10 million in damages