Joe The Pigeon (Who Was Spared Death & Is Now Famous) Also Had A Hell Of A Week
After Joe the Pigeon was nearly executed for allegedly flying to Australia from the United States, he was deemed to not "present a biosecurity risk."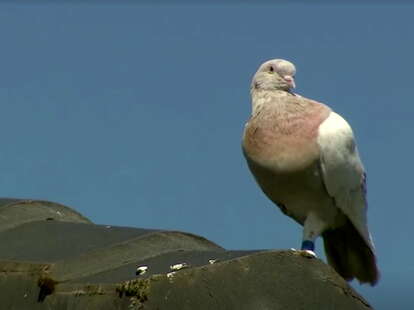 Is a pigeon who narrowly escaped death after he was falsely declared an out-of-country intruder… a metaphor? Who can say? But people who watched the international ordeal of Joe the Pigeon becoming subject to "humane destruction" for allegedly flying from the U.S. to Australia are, to put it simply, happy he can carry on.
On Friday evening, Australia's Department of Agriculture, Water, and the Environment put out a statement: "Following an investigation, the department has concluded that Joe the Pigeon is highly likely to be Australian and does not present a biosecurity risk."
A man named Kevin Celli-Bird found a pigeon in his backyard with a racing leg band on his ankle in late December, multiple outlets reported. Celli-Bird named the pigeon "Joe" after none other than incoming U.S. President Joe Biden — and he nursed the famished animal back to health.
Celli-Bird appeared to try to do the right thing for Joe by attempting to identify his origins. At some point, he learned that the pigeon's racing label identified him as a participant in an October race in Oregon — only a shy 8,000 miles from Australia, the Associated Press reported.
If all was true, this meant potentially bad news for Joe.
Australia "has notoriously strict biosecurity laws," the New York Times reported, and an American pigeon apparently posed a threat to the health of other birds in the country. The country planned to euthanize him, local reports said Thursday.
As Joe's profile rose, the country's Acting Prime Minister Michael McCormack made time to deliver a news conference on the matter.
"If Joe has come in a way that has not met our strict biosecurity measures, then bad luck, Joe," the PM said. "Either fly home or face the consequences."
People watching the affair became distraught and defended Joe.
Somewhere along the line, Pigeon Rescue Melbourne pointed out on Facebook that it believed Joe was not an American pigeon, and was rather "an Australian pigeon wearing a knock-off American ring that anyone could buy off EBay."
Upon further investigation, Australia's government agreed Joe was one of their own — and laid off its plan to execute him. How exactly Joe ended up with the leg band that nearly cost him his life is not clear.
For his part, Celli-Bird wasn't expecting any of this brouhaha. On the bird's name, he told The Times that "Donald" was also a contender. But, ultimately, "We thought [Donald] might not be politically correct with what's going on," he said.
Long live Joe the Pigeon, who so selflessly distracted us from this hell week.