John Boyega Says "Star Wars" Character Was "Pushed To The Side" In Explosive Interview
"What I would say to Disney is do not bring out a Black character, market them to be much more important in the franchise than they are and then have them pushed to the side."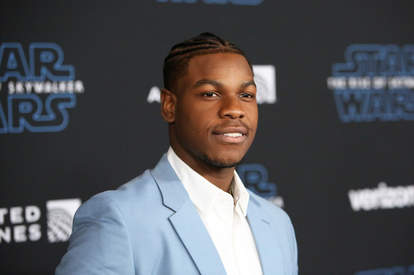 John Boyega opened up about his experience as a lead in Disney's latest "Star Wars" trilogy, saying his character's storyline was "pushed to the side" unlike those of his white co-stars.
Talking to British GQ in his first lengthy interview since the "Star Wars" trilogy ended, Boyega, the September cover star, was transparent about his experience as a Black person in a lead role. The interview was published Wednesday.
In "The Force Awakens," the trilogy's first film that premiered in 2015, Boyega's character Finn is introduced as an Stormtrooper-turned-rebel, playing a significant role in the plot. As GQ described it, Finn is "somewhat nudged to the periphery" in the two subsequent films.
"You get yourself involved in projects and you're not necessarily going to like everything," Boyega said. "[But] what I would say to Disney is do not bring out a Black character, market them to be much more important in the franchise than they are and then have them pushed to the side. It's not good. I'll say it straight up."
Boyega went on to say that other actors of color including Naomi Ackie, Kelly Marie Tran, and Oscar Isaac were misrepresented and denied substantial character development in the films after "The Force Awakens." Boyega also said Disney "knew what to do with" leading white actors Daisy Ridley and Adam Driver, but not actors of color.
"You knew what to do with these other people, but when it came to Kelly Marie Tran, when it came to John Boyega, you know f**k all. So what do you want me to say? What they want you to say is, 'I enjoyed being a part of it. It was a great experience...' Nah, nah, nah. I'll take that deal when it's a great experience," Boyega said. "They gave all the nuance to Adam Driver, all the nuance to Daisy Ridley. Let's be honest. Daisy knows this. Adam knows this. Everybody knows. I'm not exposing anything."
Boyega also defended J.J. Abrams, the director of "The Force Awakens" and third film "The Rise of Skywalker." He said: "Everybody needs to leave my boy alone. He wasn't even supposed to come back and try to save your sh*t."
While Boyega expressed that the role was an "amazing opportunity," the article's author Jimi Famurewa wrote that the actor's frustrations are part of a "permanently rigged system."
Boyega also talked about wearing his hair the way he wanted to after "attempts to control his appearance" during the years of "big-ticket moviemaking."
"When Black men grow out their hair, it's a very powerful thing," he told GQ. "Culturally, it stands for something."
During the years of "Star Wars," Boyega said he worked with a stylist who cringed "at certain clothes" he wanted to wear, and a hairdresser who "had the guts to pretend" that they had worked with hair like his.
"During the press of [The Force Awakens] I went along with it," Boyega said. "And obviously at the time I was very genuinely happy to be a part of it. But my dad always tells me one thing: 'Don't overpay with respect.' You can pay respect, but sometimes you'll be overpaying and selling yourself short."
He also talked about the painful memory of racist fans who wanted to boycott the films because Disney introduced a Black Stormtrooper, saying "I'm the only cast member who had their own unique experience of that franchise based on their race."
"Nobody else in the cast had people saying they were going to boycott the movie because [they were in it]. Nobody else had the uproar and death threats sent to their Instagram DMs and social media, saying, 'Black this and black that and you shouldn't be a Stormtrooper.' Nobody else had that experience. But yet people are surprised that I'm this way. That's my frustration."
Tran also experienced online hatred and racist remarks for her role as Rose Tico in the second and third films, and eventually deleted her Instagram account altogether because of the abuse. 
In a tweet on Wednesday after the article was published online, Boyega thanked his supporters and reminded people to read the full article.
If you can't read the full article pls pls let your top lip and bottom lip become one. ❤️

— John Boyega (@JohnBoyega) September 2, 2020
These conversations and me sharing isn't about a witch hunt. It's about clarity to an anger that can be seen as selfish, disruptive and self indulgent. Obviously in hopes of better change.Bruh. In short. I said what I said. Love to you all seriously. Your support is amazing ! ❤️

— John Boyega (@JohnBoyega) September 2, 2020
The Black Lives Matter Speech That Went Viral

Boyega also told GQ about being vulnerable during the recent surge of worldwide Black Lives Matter protests following the death of George Floyd. After a video of Boyega giving an impassioned speech at the London BLM protest in June was widely shared, the actor told GQ that there was "nothing planned or calculated about the speech." He went on to say that his emotions during the speech were inspired by other Black men in the crowd that day. 
"I feel like, especially as celebrities, we have to talk through this filter of professionalism and emotional intelligence," he said. "Sometimes you just need to be mad. You need to lay down what it is that's on your mind. Sometimes you don't have enough time to play the game."
Boyega openly talked about his experiences growing up Black in the UK, recalling a time when he and his family were "pelted with bottles and slurs" while visiting a suburb outside his hometown of London, along with being followed by police after church once.
Now, Boyega is working on a Steve McQueen-led miniseries for the BBC, "Small Axe," playing a police officer in 1980s London. The series tells the story of corruption and racism within the force—a theme that remains prescient in 2020.