Jon Stewart Is Returning To (Apple) TV With New Show On Current Affairs
The comedian of "The Daily Show" fame will helm a new current affairs series that will "explore topics that are currently part of the national conversation and his advocacy work."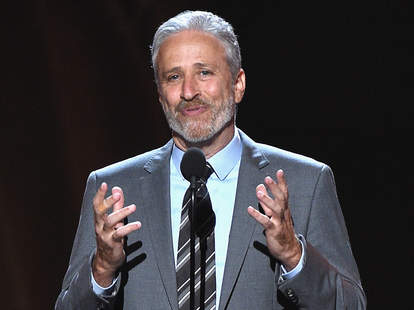 Comedian Jon Stewart will be returning to television with a new current affairs series on Apple TV+.
Stewart, who anchored Comedy Central's wildly popular "The Daily Show" before departing in 2015 and handing the reins over to Trevor Noah, will be hosting a new series on Apple's streaming service according to an announcement from the company this week.
In its statement to several media outlets, Apple TV+ said it has ordered the series for multiple seasons and that Stewart's new show "will explore topics that are currently part of the national conversation and his advocacy work." Though a name and specific release date for the series hasn't been announced, The Hollywood Reporter said the series will begin rolling out next year. The show will consist of one-hour episodes, each dedicated to a single topic. THR, which first reported the news, said there will also be a companion podcast.
During his 16 years hosting "The Daily Show," Stewart received many awards and accolades for his sharp, satirical commentary on the country's current events and politics. Since retiring from the show, he has made a few sporadic appearances on CBS' "The Late Show" with his former colleague Stephen Colbert.
He has also been a vocal advocate for 9/11 first responders and turned his 45-acre farm in New Jersey into a sanctuary for abused factory farm animals, with his wife Tracey.
Stewart also directed the 2020 political comedy "Irresistible," starring another "Daily Show" alum, Steve Carell.