Juror In Chauvin Trial Becomes First To Speak Out: "I Didn't See Any Remorse"
Brandon Mitchell spoke about being on the jury during the historic murder trial and said it took an emotional toll on him and other jurors.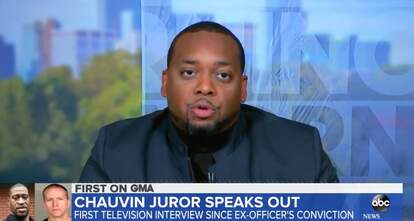 A juror who deliberated in the murder trial of ex-cop Derek Chauvin became the first to speak out publicly about the experience, saying it took a toll on jurors and that he didn't "see any remorse" from the former officer who was convicted of killing George Floyd.
Brandon Mitchell, a 31-year-old basketball coach in Minneapolis, spoke with multiple outlets this week about being part of the historic murder trial. Mitchell told CNN that the trial took an emotional toll on him and other members of the jury, and that he "broke down after court" multiple times.
Mitchell said being part of the trial, which took more than three weeks, was "dark" and that "it felt like every day was a funeral."
"It 100% was not easy at all, each day, just coming in," Mitchell told CNN, about reporting to jury duty. "Because watching somebody die each day, that's a tough thing to watch."
Former Minneapolis police officer Chauvin, 45, was found guilty of second- and third-degree murder, in addition to second-degree manslaughter, for the murder of Floyd, 46, during an arrest in May 2020. A widely shared video of the incident recorded by Darnella Frazier showed Chauvin kneeling on Floyd's neck for roughly nine minutes and ignited worldwide civil rights protests against police brutality and systemic racism.
"It's a historic video, unfortunately," Mitchell told ABC News in an interview that aired Wednesday. "It was probably the most important piece of evidence."
Mitchell also told CNN that Chauvin and his legal team appeared "really confident" at the trial's outset, but as it continued, "his demeanor kind of changed to more of a confused look — [like] this isn't how it's supposed to go."
"I didn't see any remorse," Mitchell said of Chauvin.
Mitchell said the jury did not watch the news during the course of the trial, but that the pressure of being a juror distracted him from "whatever's going on outside of the four walls of the courtroom." Deliberations went on for about 10 hours, and Mitchell said he was surprised they took that long.
"I feel like the evidence was overwhelming," he continued. "But ... decisions like that, when you're deciding somebody else's life, will never be that easy."
Mitchell said that Floyd's legacy is now "cemented in history" after the tragic case brought policing and America's longstanding history of racism to the forefront of societal conversation.
"It will hopefully create some change within society," Mitchell continued.
Jury selection in Chauvin's trial took weeks. The makeup of the jury — which included three Black men, one Black woman, and two people who identify as multiracial — was more diverse than the city of Minneapolis, which is more than 60% white and less than 20% Black. Mitchell told the host of "Get Up! Mornings With Erica Campbell" that he was the only African American man on the jury.