Jussie Smollett Indicted On 6 New Charges over Alleged Hate Crime Controversy
Smollett has been embroiled in controversy for more than a year, after allegedly falsely reporting that he was a victim of a hate crime.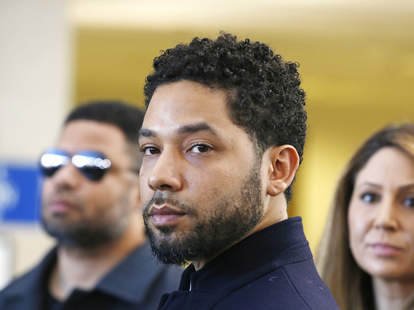 Actor Jussie Smollett was indicted Tuesday by a Chicago grand jury on 6 new charges of disorderly conduct for allegedly making false reports to Chicago police. 
Smollett has been embroiled in controversy for more than a year over allegations that he filed 4 false police reports claiming to be the victim of a hate crime.
The new indictment was announced by special prosecutor Dan Webb, who was appointed after Cook County prosecutors dropped similar charges in March 2019 and expunged Smollett's record. Webb took over the case after a judge ruled the Cook County state's attorney Kim Foxx, who is up for reelection, had mishandled it. 
After a 6-month investigation, Webb said in a statement that further prosecuting Smollett is "in the interest of justice" and was informed by "the extensive nature of Mr. Smollett's false police reports, and the resources expended by the Chicago Police Department to investigate these false reports." In January 2019, former "Empire" star Smollett, who is openly gay, reported that he was assaulted by two masked men at 2 a.m. Smollett told police that the men punched him, use racist and homophobic slurs, poured an "unknown chemical substance" on him, and put a rope around his neck before fleeing.
As the attack made headlines and police investigated, Smollett became a person of interest in the case, with police claiming that he staged the attack because he was unhappy with his salary as an actor and wanted to elevate his career, the Associated Press reports. 
Smollett's lawyer Tina Glandian told PEOPLE that the latest indictment "raises serious questions about the integrity of the the investigation that led to the renewed charges against Mr. Smollett, not the least of which is the use of the same CPD detectives who were part of the original investigation into the attack on Mr. Smollett to conduct the current investigation, despite Mr. Smollett's pending civil claims against the City of Chicago and CPD officers for malicious prosecution."
Smollett has denied all allegations, according to CBS Chicago, and accused Chicago police of malicious prosecution. Separately, the city is suing Smollett for the $130,000 cost of the investigation. He is scheduled to appear in court on February 24.