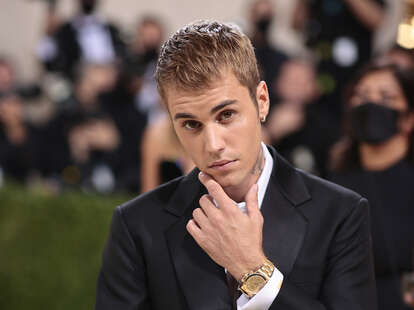 Justin Bieber is the latest musical artist to cash in their song catalog for an absurd amount of money. The 28-year-old singer has struck a deal with Hipgnosis Songs Capital for more than $200 million, and the sale is reportedly the largest of any artist of Bieber's generation, as well as Hipgnosis' biggest catalog purchase to date.
The London-based music investment company now has the reins to the 290 songs in Bieber's catalog that predate December 31, 2021, including his first hit single "One Time;" other smash hits, like "Despacito" and "What Do You Mean?"; and his 2021 album, "Justice."
Per Variety, the deal encompasses "shares of [Bieber's] publishing and recorded-music catalog, Bieber's interest in his publishing copyrights (including the writer's share of performance)," as well as "master recordings and neighboring rights for his entire back catalog."
Bulk sales of artists' catalogs have become a trend in showbiz, as recent industry shifts have disrupted other traditional revenue streams. Album sales are dwindling. And while streaming platforms are ascendant, the vast majority of artists aren't seeing the spoils. Even touring isn't the money driver that it used to be due to post-pandemic realities and rising production and equipment costs spurred on by inflation. So for nearly every artist, songs remain the only assured golden ticket.
That said, even if catalog deals are the hot new thing, most of the musicians who have pawned off their music rights are aging legends, like Bob Dylan, Neil Young, and Bruce Springsteen — who sold his catalog to Sony Music for $500 million, the biggest sale of its kind in history. They're beloved Boomer acts looking to ride off into the sunset with one more pay day, not contemporary stars who still regularly command top spots on the charts. For an artist like Bieber to make this deal before he's even 30 is especially striking and might speak to the general uncertainty regarding the industry's long-term prognosis.
It's worth mentioning that Bieber's personal health problems might have been another impetus for him cashing out this early in his career. Last summer, the 28-year-old announced he had been diagnosed with Ramsay Hunt syndrome, a condition that causes facial paralysis (among other symptoms) and that prompted him to postpone several dates of his tour. In addition to his experience with Ramsay Hunt, Bieber has also been open about exhaustion and depression. Perhaps this new deal is less about industry trends and more about one individual securing a safety net, should he choose to walk away for good.