Karine Jean-Pierre Named New White House Press Secretary
Jean-Pierre will be the first Black woman and first out LGBTQ+ individual to hold the role.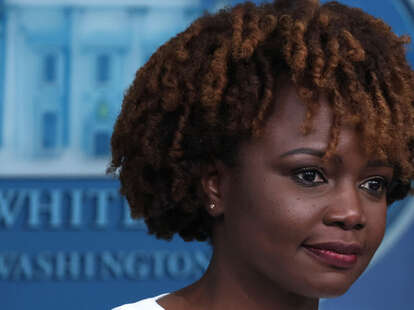 Karine Jean-Pierre will replace Jen Psaki as White House press secretary, making history as the first Black woman and out LGBTQ+ individual to hold the role, President Joe Biden announced Thursday.
In his official statement, Biden spoke highly of Jean-Pierre, who has been serving as the principal deputy press secretary. He said, "Karine not only brings the experience, talent and integrity needed for this difficult job, but she will continue to lead the way in communicating about the work of the Biden-Harris Administration on behalf of the American people."
Jean-Pierre hails from Haiti and immigrated to Queens, New York, as a child. Though she initially served as chief of staff for Kamala Harris' presidential run, she later joined the Biden campaign and followed him to the White House. She will take over as press secretary after Psaki leaves the administration on May 13, according to Biden's statement.